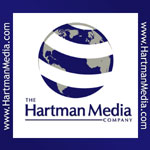 Irvine, CA (PRWEB) January 18, 2012
The Hartman Media Company, an innovative portal for educational content benefiting aspiring entrepreneurs and professionals in various fields and services, understands that getting a podcast up and going is deceptively easy. So easy, in fact, that one might forget to work on a critical little thing called microphone technique.
The Hartman Media Company instructs podcasters to find the microphone's sweet spot, avoid unprofessional popping and manipulate the speaking voice for better sound. By following these microphone techniques for podcasters, any budding broadcaster will be that much more prepared for success in the new audio journalism:
1) Find the Sweet Spot – All microphones are designed with a specific pick up pattern. The pickup pattern is the optimum area around the microphone for picking up great sound. Laymen call it the [sweet spot. The Hartman Media Company suggests speaking approximately six inches away from the microphone initially, then making test recordings while speaking from different areas to ensure optimal quality.
In addition, podcasters are advised to try recording in different rooms. Minimizing background noise is vital to ensuring a podcast has professional sound quality. Sloppy sound recording distracts from the entertainment value of the podcast; avoid it by making sure to place the microphone in its sweet spot.
2) Avoid Popping – The letters "B" and "P" often make a distracting popping sound when said into a microphone. Those pops are called "plosives." To avoid plosives, tilt the mic slightly away from the mouth or add a pop filter to the microphone setup. Podcasters may find inexpensive pop filters online or find easy instructions for a do-it-yourself filter. Either way, plosive filtering is an invaluable component in a podcaster's microphone setup. In order to communicate the message of a podcast, all distracting sounds need to be removed. A pop filter will ensure that plosives won't detract from the content of a podcast.
3) Manipulate the Voice – The podcaster's voice is literally the tool of the trade. A professional podcaster should get input from reliable, objective critics on the quality of his or her voice. Hiring a vocal coach may, in the long run, make the podcaster far more pleasing in tone, easing the process of engaging an audience and building a listener base.
Podcasting is not for the uncommitted. For great search engine optimization (SEO), attention on iTunes, and building a steady fan base, proper attention to detail is important. Finding the microphone's sweet spot, avoiding microphone plosives, and manipulating the voice are all essential tactics for recording a professional quality podcast.
About The Hartman Media Company
The Hartman Media Company is an innovative portal for educational content to benefit aspiring entrepreneurs and professionals in various fields and services. We gather special reports, newsletters, and audio and video podcasts for the benefit of visitors and subscribers. The Hartman Media Company is a one-stop destination for people seeking new, creative strategies for wealth building and generating additional streams of income. For more information, visit The Hartman Media Company online.
###