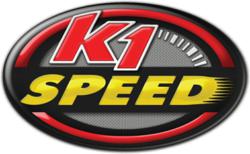 Irvine, CA (PRWEB) January 19, 2012
The nation's largest indoor go kart racing company is founded on the principle that success is derived from always moving forward. To grow, a company can never rest on its laurels, and K1 Speed has shown an adherence to this philosophy ever since its founding in 2003. K1 Speed, Inc. is looking to move full throttle into 2012. After expanding its customer base significantly over the last year, the company is looking to introduce the sport of indoor go kart racing, and create local jobs, to even more communities across America.
In one year, K1 Speed expanded from 6 locations to 9, and opened its first indoor karting center on the East Coast in Fort Lauderdale, Florida. Centers in Santa Clara, California and Phoenix, Arizona rounded out the expansion. During those same 12 months, the company's retail division, K1RaceGear.com – which caters to amateur and professional karters and racecar drivers – grew by 60 percent, based largely on a greatly expanded lineup of auto racing products. The company has quickly become a reputable and recognized name within the industry. Professional and up-and-coming drivers across the country, as well as internationally, have competed on kart tracks and road courses wearing K1 Race Gear safety apparel.
K1 Speed has no plans of slowing down in 2012. Current plans call for the company to open two indoor karting centers in Texas. The first center, currently under construction, will be opened in Austin – the new home of the United States Formula 1 Grand Prix – while the other will call Houston home. These two new facilities will mark the first K1 Speed centers opened in the Lone Star state. By late summer, the company plans to have a center open in Atlanta, Georgia, and plans are already underway for a sister center to Santa Clara, that will serve the community of San Francisco, California.
The goal of K1 Speed is to bring the sport and hobby of indoor go kart racing to the masses. Look out for a K1 Speed indoor karting center in your community soon!
About K1 Speed:
K1 Speed was founded in 2003 and is the nation's largest indoor kart racing chain. Each facility boasts 50,000-90,000 sq. ft. of space which feature real road courses, meeting rooms, snack bars, and spacious lobbies with genuine racing memorabilia. Visitors can take advantage of a variety of different race packages to race against their friends or the clock. K1 Speed can accommodate 10 to 800 guests and offers a unique venue for corporate functions, team building events, birthday parties, bachelor parties, or other private ceremonies.
###