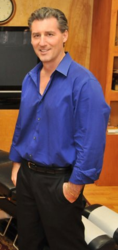 " my staff and I love what we do...and it's amazing to us to be part of helping someone achieve their goals."
Orlando, FL (PRWEB) January 20, 2012
When asked about the decision to offer new services at Affinity Health & Wellness Center, Dr. Baldasare said, "We have always strived to be not just an Orlando chiropractic resource, but also a total health and wellness resource. We decided to add these new services because it allows our clients to get all their health, wellness, and beauty needs met in one convenient place."
The Orlando massage therapy services that are new offerings at Affinity Health & Wellness Center include hot stone massage, a therapy in which warmed river stones are placed along the spinal column for a heated therapy experience. Deep tissue massage will also be offered under the guidance of the Affinity Health & Wellness Center Licensed Massage Therapist, Lisa. Deep tissue massage can be used to relieve severe pain and to break up scar tissue that has built up after an injury. Massage therapy can be arranged as a spa service or as part of a healing program prescribed by the chiropractor.
Another new offering at Affinity Health & Wellness Center is a low-force means of chiropractic adjustment. The tool used to make the adjustments uses very low pressure and allows for completely pain free adjustments for patients.
According to Dr. Baldasare, "Some patients who have concerns about undergoing chiropractic adjustments will feel more comfortable with this new low-force method as they are assured of a pain-free experience. Patients can try this method if they are looking for an alternate type of chiropractic adjustment, since it often as effective as other adjustment methods."
A new type of facial peel has been added to the spa service menu at Affinity Health & Wellness Center for 2012 as well. According to the chiropractor, the facial peel is a non-invasive way to remove many of the effects of aging, allowing patients to look up to ten years younger with no invasive treatment required.
"Facial peels can rejuvenate skin, remove fine lines and wrinkles, and will expose a new layer of younger-looking skin. The new facial peel uses all-natural products and does not introduce any potentially harmful chemicals to the skin," said Dr. Baldasare. Affinity Health & Wellness Center is offering all the announced new services at the time of press release. More information is available on the center website at http://www.affinityhealthcarecenter.com.
Affinity Health & Wellness Center, Orlando, FL
###