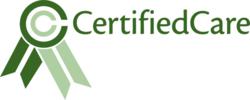 Certification for Personal Care Aides is imperative for the safety and well being of the elderly population.
Cleveland, Ohio (PRWEB) January 19, 2012
The demand for elder caregivers is growing rapidly as the population of the United States faces record growth in the elderly population. According to Phi Policy Works, approximately four million direct-care workers will be needed by 2016 to provide long-term services and support. CertifiedCare addresses the explosive growth, and with expansion comes regulations at the federal and state level to protect the safety and well being of this demographic.
According to the U.S. Bureau of Labor Statistics, there are three main categories for direct-care workers, each with their own specific set of duties:

Nursing Assistants/Nursing Aides – Nursing Assistants work in nursing homes, assisted living environments, hospitals or some sort of community-based setting. They provide assistance with daily living activities including eating, bathing and dressing. Additionally, they perform clinical tasks like blood pressure readings.
Home Health Aides – Home Health Aides are similar to Nursing Assistants in terms of services provided, however Home Health Aides usually operate out of the person's home under the supervision of a nurse or therapist. They may also help out around the house performing certain chores like laundry and preparing meals.
Personal/Home Care Aides – Personal Care Aides (also referred to as Home Care Aides in some states) take care of household chores, such as laundry, cleaning, errands outside of the home that their patients are unable to complete, bathing assistance and meal preparation. Personal Care Aides also monitor the medical condition of their patients and administer medications and treatments as prescribed by the patient's physician. They report the status of their client's progress to their supervisor, who is usually a family member, home health aide, nurse or social worker.
Nursing Assistants/Aides and Home Health Aides are more medically involved, and are, therefore, required by the federal government to receive specific training and accreditation. Since Personal Care Aides, or PCAs, do not administer physically invasive therapies and do not have to work under the supervision of a nurse, there are no federal requirements in place for this job category. "Certification for Personal Care Aides is imperative for the safety and well being of the elderly population," Dr. Cathleen Carr, executive director of CertifiedCare explains. "It indicates a commitment to quality, a desire for career stability and development of an enduring skills set to help reduce elder abuse and neglect."
The federal government recognizes the importance of the progress of the Personal Care Aide field. In 2010, six states were awarded grants by the U.S. Department of Health and Human Services to create a training and credentialing program. The Personal and Home Care Aide State Training Program (PHCAST) is apart of a three-year demonstration program called the Affordable Care Act. California, Iowa, Maine, Massachusetts, Michigan and North Carolina received a total of $4.2 million for the project.
With no federal regulation in place, states are taking it upon themselves to implement certain initiatives. Legislation in California for example, requires each county in the state to create a record complete with referrals and a background check of independent care providers providing support and services under the In-Home Services (IHSS) program. A bill passed in Washington requires Home Care Aides to complete 75 hours of long-term care basic training and then pass a certification exam. The training includes core competencies and population specific competencies. Connecticut has pending legislation that if passed, would establish a Personal Care Aide Workforce Council to recruit and train Personal Care Aides.
Other states do not have their sights set solely on regulation for the Personal Care Aide/Personal Home Aide category. Rather, they are focused more on Direct Care Workers as a whole favoring the more medically intensive job categories of Nursing Assistants/Nursing Aides and Home Health Aides when setting up legislation. "This is where proposed legislation misses the mark," says Dr. Carr. "It is the Personal Care Aide who can help reduce costs of care, reduce re-admissions to emergency rooms and improve the patients overall sense of well being. Not every elderly person requires a nurse to respond to every need. Most elder needs are not health related at all, rather the activities of daily living are what they need the most help with. This is where state action needs to be focused. Filling this gap in the eldercare at-home paradigm is why CertifiedCare exists."
As William F. Benson, Former US Principal Deputy Assistant, Secretary for Aging was quoted in a CDC document, "establishing and strengthening policies that support caregivers is fundamental to the nation's long-term care policy." With the elderly demographic growing, the need for safe and preventative measures in at home caregiving particularly among the Personal/Home Care Aide field is an increasing concern.
CertifiedCare Explains Development in Personal Care Aide Legislation that Protects the Rapidly Increasing Elderly Population is part three of a three-part series of topics covered by CertifiedCare.
About CertifiedCare
CertifiedCare offers family caregivers and Personal Care Workers certification in the area of elder caregiving in "at home" and assisted living institutional environments. CertifiedCare created the first online curriculum and training program for assisted living companions that incorporate law, business, and alternative therapies, while complying with the American Medical Association (AMA) Guidelines for elder caregiving. CertifiedCare has worked with over 1,000 caregivers from all over the United States and abroad.
CertifiedCare offers three caregiver certification programs for both family caregivers and professional Personal Care Workers: Basic Caregiving, Advanced Caregiving and Alzheimer's-Dementia Specialist Certification programs. For more information on CertifiedCare and their programs, visit http://www.certifiedcare.org.
About Dr. Cathleen Carr
Dr. Cathleen Carr is the founder and executive director of CertifiedCare. She is a nationally recognized Eldercare Specialist in the areas of wills, trusts, probate, elder law and holistic health and wellness.
Dr. Carr is a published author on various topics including eldercare, natural health and green living. She is a contributing author to: Examiner.com, Radientlife, Suite101.com, Alternative Health Review, National Diet Institute, BestNaturalHealthDirectory.com, Natural Medicine Ink (editor) and eHealthScience. She also is an herbalist and naturopathic practitioner, where she specializes in therapeutic herbalism and restorative vibrational therapies.
###