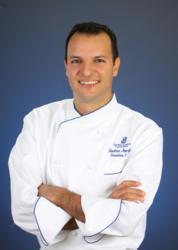 Fresh products need not be greatly altered. By guarding the natural tastes of the product, one creates a sense of place with not only the meal, but the experience.
Dana Point, CA (PRWEB) January 20, 2012
Tantalize the taste buds and join Ritz-Carlton, Laguna Niguel Executive Chef Andres Jimenez at his monthly Chef's Table Dinner. Each month, he selects a seasonal theme and, along with other chefs from his culinary team, presents a four-course tasting menu with each course showcasing a different chef's talents as they relate to the theme.
Chef's Tables are held monthly in the resort's Private Dining Room. The dinners start at 7 p.m. and are $169 per person, inclusive of tax, gratuity and wine pairing.
Thursday, February 23 – Market to Table
Experience how ordinary ingredients found at any market can be turned into an extraordinary menu. Chef Jimenez showcases how it's not the ingredients, but rather what is done with the ingredients than can make for a true culinary experience.
Thursday, March 29 – 250 Miles of Cuisine
The focus on local and regional cuisine has never been more important and, in March, Chef Jimenez creates a menu utilizing only ingredients harvested, picked or raised within 250 miles of the resort. Guests will also learn about what ingredients are available within the region and how they can be turned into an amazing menu.
Thursday, April 19 – Mushrooms, Mushrooms, Mushrooms
Few ingredients are as versatile as the mushroom. Mushrooms are low in calories, fat-free, cholesterol-free and very low in sodium and, can also be featured as a dessert. In April, Chef Jimenez presents four wild mushrooms expertly prepared four different ways. A must eat experience.
Thursday June 28 – A Sneak Peak of Summer
June 20 is the first official day of summer. Chefs Jimenez and his team prepare a Chef's Table that offers a sneak peak on the benefits of additional sunlight. Experience dishes from the year's best season (in the Chef's opinion) for fresh, healthy, light produce and ingredients that will tempt the pallet all summer long.
ABOUT THE CHEFS
Executive Chef Andres Jimenez
Chef Jimenez joined the resort in 2010. Throughout his tenure with The Ritz-Carlton, Chef Jimenez has served as executive chef at The Ritz-Carlton, Denver and acting executive sous chef and chef de cuisine at The Ritz-Carlton, Key Biscayne. While in Key Biscayne, he was responsible for all culinary operation of Aria Restaurant which was selected as one of "America's 50 Best Hotel Restaurants" by Food & Wine. He was also instrumental in the launch and re-conception of the Cantina Beach and Cioppino Restaurant which was named one of "America's Best News Restaurants" by Esquire. Jimenez's career also includes positions as chef de cuisine, specialty chef, and head pastry chef in locations including the West Indies, Costa Rica and France.
RAYA Chef Marissa Gerlach
Chef Gerlach joined the resort in April 2010 as a culinary supervisor on the pre-opening team of RAYA. With her creativity and passion for food she quickly became a key contributor in the success of the restaurant. Within six months, she was promoted to sous chef where she continued to influence and contribute to the creation of the daily and seasonal menus. She also played a pivotal role in RAYA being recognized as "Restaurant of the Year" by Riviera Orange County in July 2011. Prior to joining RAYA, Chef Marissa worked in kitchens of some of the best restaurants and hotels in California including Studio at Montage Laguna Beach under Chef James Boyce, Bardessono in Yountville, The Restaurant at Meadowood in Napa Valley under Chef Christopher Kostow, and Cyrus in Healdsburg under Chef Douglas Keane.
Executive Pastry Chef Brian Sundeen
Chef Sundeen joined the Laguna Niguel culinary team in 2010. His tenure with Ritz-Carlton includes pastry chef positions at Huntington Hotel & Spa (now the Langham Pasadena), Reynolds Plantation and open pastry chef for Moscow. Chef Sundeen graduated from the Orange County School of Culinary arts in both culinary and pastry tracts. He also is a graduate of the French Pastry School in Chicago.
Assistant Pastry Chef Daniel Dominiquez
Chef Dominiquez joined the resort as a culinary extern while attending California School of Culinary Arts. Following graduation in 2001, he started in the kitchen as Cook 4 and moved his way up until being promoted to Assistant Pastry Chef.
Banquet Chef Jim Fritz
Chef Fritz has been part of the resort's culinary team since 1997. Over the years, he has worked in all areas of the kitchen including the former all day dining restaurant, The Terrace Restaurant, and the Five Diamond, French restaurant, The Dining Room. Chef Fritz also served for two years as the sous chef in garde manger. He graduated from Western Culinary Institute in Portland and worked with several catering companies prior to joining the resort.
Chef Tournant Steve Wan
As Chef Tournant, Chef Wan works in all areas of the kitchen. He joined the resort in 2004 and has held positions as main saucier and banquet sous chef. His first culinary position was as a line cook at Ocean Avenue Seafood in Santa Monica. He also spent time in the kitchens of McCormick and Schmnicks and Flemings Prime Steakhouse. He attended the Art Institute of Los Angeles where he earned an Associate Degree in Culinary Arts and a Bachelor's Degree in Culinary Management
Garde Manger Chef Jorge Bribiesca
Chef Bribiesca joined the resort in 1998 as garde manger sous chef. He was promoted to garde manger chef in 2006. He also serves as the resort's sushi chef, hand preparing all of the sushi for 180blu, The Market Place, The Ritz-Carlton Club and all banquet events. Chef Bribiesca graduated with a culinary degree from Orange Coast College.
Banquet Sous Chef Filip Cervinka
Chef Cervinka became a part of the culinary team in 2010. He has worked as sous chef, saucier and butcher at the resort. Prior to joining the resort, he was chef de cuisine at Pepperstone Steak House in St. Louis. He is a graduate of SOU Culinary Arts program and has studied management and marketing of hotel dining at SCMSD.
In Room Dining Chef Benjamin Ynda
Chef Ynda joined the resort in 2001 and has held culinary positions in the resort's restaurant, pastry and banquet kitchens. As In Room Dining Chef, he is also responsible for the Organic Food Bar in Ambassadors of the Environment. Prior to becoming a chef, he worked as a mechanical engineer and site manager.
Situated atop a 150-foot bluff in picturesque Dana Point, California, The Ritz-Carlton, Laguna Niguel has catered to the world's most discriminating guests for more than 27 years. Consistently ranked among the best resorts in the world, The Ritz-Carlton, Laguna Niguel offers a variety of recreational activities, award-winning dining and personalized service. For more information or reservations call 800/241-3333, the hotel directly at 949/240-2000, a travel professional or visit The Ritz-Carlton website. Follow the resort on Facebook and Twitter.
###