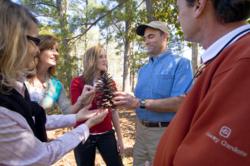 Only $150 per person with three meals a day, two breaks and more
PINE MOUNTAIN, GA (PRWEB) January 20, 2012
Callaway Gardens' Complete Meeting Package is a new, affordable package for any group or event. For only $150* per person (single occupancy) or $113* per person (double occupancy), groups receive:

Breakfast, lunch and dinner
Morning and afternoon breaks
General session meeting room
Flip chart package
Three "Taste of Callaway" gift bags
Use of the Callaway Fitness Center
Admission to Callaways' world-class Gardens featuring the Day Butterfly Center, Sibley Horticultural Center, Callaway Discovery Center, live Birds of Prey Shows, seven miles of nature trails and our 10-mile Discovery Bicycle Trail.
Accommodations in the Mountain Creek Inn
Callaway Gardens is the ideal destination for any organization's meeting or retreat.
"We are fortunate to have a variety of facilites that are versatile, such as the Mountain Creek Conference and Training Center, which has ample space to suit a group's needs. The recently refreshed Mountain Creek Inn is right next door, and the13,000-acre Gardens offer a splendid woodland backdrop for it all," said Perry Grice, director of sales for Callaway Gardens. "The addition of the $150 CMP just makes the decision for a meeting planner very easy."
Personal Training Center
Callaway Gardens' Mountain Creek Conference and Training Center features 31,000 square feet of flexible meeting space and can be customized to an organization's unique needs. Consider a few of the possibilities:

Customer service skills training
Corporate campus or university
Replica of office, kitchen and other workplace environments
Development programs in partnership with the Cunningham Leadership Institute, Pastoral Institute, Business Resource Center and Columbus State University
Integration with Callaway Gardens' many attractions and educational programs
"For four years I've hosted an annual event for 300 ladies at Callaway Garden's Mountain Creek Conference and Training Center," said Marie-Therese Baker, meeting planner. "The participants love the beautiful location, they notice and comment on the friendly, helpful staff and we are able to accomplish our goals. We love Callaway and we'll be back."
To plan an upcoming meeting or event at this unbeatable rate, please call the Callaway Gardens Group Sales office at 1-800-543-7121.
For additional information, call 1-800-CALLAWAY (225-5292) or visit http://www.callawaygardens.com.
Callaway Gardens®, is in Pine Mountain, Ga., 60 minutes southwest of Atlanta and 30 minutes north of Columbus, Ga.
*Rate is per room, per night based availability and double occupancy in the Mountain Creek Inn. Restrictions may apply. Rates include all tax and gratuities. Minimum of 20 rooms required.
About Callaway Gardens
For almost 60 years, Callaway Gardens has provided "a place of relaxation, inspiration and a better understanding of the living world" for millions of visitors. Owned and operated by the non-profit Ida Cason Callaway Foundation, Callaway Gardens includes a garden, resort, preserve and residential community on 13,000 acres in Pine Mountain, Georgia. Highlights include a butterfly conservatory, horticultural center, discovery center, chapel, inland beach, nature trails and special events throughout the year.
In addition, Callaway Gardens offers nearly 80,000 square feet of meeting space, 685 guest rooms, restaurants, shops, golf, tennis, fishing and more.
Five unique, close-knit residential communities — with custom home sites, lakefront properties and cottages on the golf course — offer an ideal home away from home or full-time residence.
Callaway Gardens is home to a 4,610-acre forest preserve which is under conservation easement. This conserved, sustainably-managed land is used for biological studies and environmental education programs.
Note to Editors: Images, interviews and visits to the event can be arranged. Thank you.
###