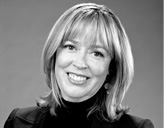 Pasadena, Calif. (PRWEB) January 18, 2012
The Los Angeles chapter of the National Association of Women Business Owners (NAWBO-LA) and the NAWBO-LA Foundation have announced that Perfect Market CEO Julie Schoenfeld will be one of seven honorees for 2012 at the 26th Annual NAWBO-LA Leadership and Legacy Awards Luncheon. The NAWBO-LA Awards aim to give deserved tribute to top achievers and advocates in the women's business community and recognize their contributions to the advancement of women. The event will take place from 11:00 a.m. to 2:00 p.m. Friday, March 23, 2012 at the JW Marriott at LA LIVE.
Julie Schoenfeld will receive the Innovator of the Year Award for her work as CEO of Perfect Market, a Pasadena-based startup that helps grow engagement, traffic and revenue for online publishers. In the course of the last year, Julie led her sales and engineering teams down a very impressive path, deploying Perfect Market technology on premium publisher sites including The New York Times, Los Angeles Times, Chicago Tribune, and Boston.com, and serving over 200M monthly page views.
The other NAWBO-LA honorees are:
Leadership Award: Lubov Azria, Chief Creative Officer, BCBGMAXAZRIAGROUP
Legacy Award: Frieda Caplan, Founder & Chairman of the Board, Frieda's, Inc.
Trailblazer Award: Luisa Acosta-Franco, Vice President of Multicultural Marketing,
Farmers Insurance Group
Diversity Champion Award: Byron Reed, Senior Vice President, Wells Fargo
Rising Star of the Year Award: Cookie Johnson, Founder & Co-Owner, CJ by Cookie Johnson
Hall of Fame Inductee: Patricia Watts, President and CEO, FC I Management Consultants
About Perfect Market:
Perfect Market, Inc. helps grow engagement, traffic, and revenue for online publishers such as The New York Times, The Los Angeles Times, The San Francisco Chronicle, and The Chicago Tribune. Through Adaptive Publishing measures (delivering the right content in the right format, to the right user, with the right relevancy), Perfect Market improves reader interaction, resulting in significant increases in engagement metrics such as time on site and page views per visit. Furthermore, by applying our patented semantic technology in a variety of ways, (such as generating high value and highly relevant CPC ads, auto-generating keyword pages, and building deep, related link structures), and optimizing content for search and social, Perfect Market is able to significantly drive traffic (new visits) and revenue for our partners.
For more information about Perfect Market, please visit http://www.perfectmarket.com.
About NAWBO-LA:
Representing more than 509,000 women-owned businesses in the Los Angeles-Long Beach-Santa Ana metropolitan area, employing more than 688,000 people, and generating more than $129 billion in annual revenues, women entrepreneurs have become an increasingly active and powerful force shaping the economic and political landscape of Southern California.
Founded in 1979, NAWBO-LA is one of the largest and fastest-growing chapters of the National Association of Women Business Owners, an organization that strives to empower and enable women entrepreneurs into economic, political and social spheres of leadership.
Founded in 2000, The NAWBO-LA Foundation is a 501(c)3 tax exempt charitable organization dedicated to promoting the entrepreneurship of women worldwide.
Together, NAWBO-LA and the NAWBO-LA Foundation work closely to ensure that women business owners are recognized as a public policy voice to be reckoned with, a formidable economic force, and effective agents for change in the dynamic business environment that is Southern California.
For more information about NAWBO-LA or the NAWBO-LA Foundation, please visit http://www.nawbola.org or call (213) 622-3200.
###