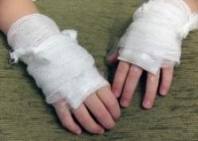 extreme risk of injury remains
San Diego, CA (PRWEB) January 23, 2012
The media spotlight is often a double-edged sword. No one knows this better than Marin's family. And yet, gossip and rumor-mongering aside, the real story here is being overlooked according to Sean Burke of AttorneyOne (http://www.attorneyone.com).
Feb. 5-11, 2012 is the National Burn Awareness Week and last month, citing the "extreme risk of injury," the American Burn Association, representing burn surgeons, nurses and therapists, became the latest to call for adoption of a mandatory safety standard. It joined such groups as Consumers Union and the Consumer Federation of America.
AttorneyOne.com, a recognized authority on law, can provide helpful advice and simple solutions including how to get in contact with legal council so that, in case of gas fireplace glass door burns, someone can easily and inexpensively deal with it. As Mr. Burke, director of Media Relations for AttorneyOne.com, added, "What all this information really illustrates is that threat of severe burns from gas fireplace glass door defects remains. For that reason, our focus should squarely fall on getting the word out and assisting people in finding the right legal assistance."
FairWarning report published in 2011, reveals that more than 2,000 children ages 5 and younger have suffered burns from fireplace glass since 1999, according to a federal estimate. Some burn specialists think the actual toll is higher.
Children's Hospital Colorado Burn Center reports the following:

The glass barrier of a gas fireplace door can heat up to more than 200º F in approximately 6 minutes.
Contact with the glass of gas fireplace doors can result in second or third degree burns.
Burns of the hand can result in hand dysfunction causing long term impairment and disability.
Treatment of burns of the hand are time intensive, costly, painful, and can require long term therapy of the hand.
For additional information regarding gas fireplace glass door burns including how to get in contact with legal council please visit AttorneyOne.com. http://www.attorneyone.com/superior-fireplace/
Headquartered in San Diego, CA Attorney One was founded in 2004 and is not a law firm. They offer a nationwide legal service which helps consumers find the best representation for their legal needs. Checkout earlier legal news from us at http://www.prweb.com/releases/2012/1/prweb9109528.htm.
# # #