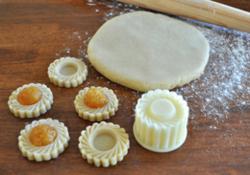 Find pineapple tart cookie cutters & nian gao molds at Browncookie.com.
Seattle, WA (PRWEB) January 19, 2012
Chinese New Year arrives on January 23rd. This is the first of 15 days of celebration and the start of the Year of the Dragon.
For many overseas Asians and others who have experienced traditional Chinese treats, the Chinese New Year holiday brings a yearning for hard to find baked treats from the region. Goodies like pineapple tart cookies, "nian gao" rice cakes, and "kock gais" fried peanut pastries are difficult to find outside of Asia, even in your local Chinatown.
To solve this problem, Browncookie.com offers a full specialty baking product line to help people prepare these treats at home. Starting at $5.99 for pineapple tart cookie cutters, you will discover hard to find baking tools for the Chinese New Year season at their online store. Items like nian gao molds and kock gais molds will add unique elements to your cooking and baking tool collection. Browncookie.com also provides free downloads of detailed, carefully tested and authentic recipes so that your purchase can be immediately put into good use.
Browncookie.com is an internet retailer of bakeware, cookware, and kitchen tools based in Seattle, WA. Browncookie.com offers free shipping for US customers with purchases over $25. Browncookie also ships worldwide and offers expedited shipping options.
Founded in 2008 in Seattle, WA, Browncookie.com is a business dedicated to the needs of home cooks and baking professionals around the world. By offering a diverse range of cooking and baking tools and utensils, the company's mission is to help home cooks and professional chefs broaden their recipe repertoires. Browncookie.com prides itself in offering cooking tools that will "bring out the chef in you."
###