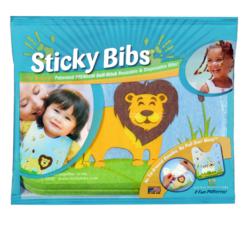 I love that I can re-use this disposable bib!
Columbus, Ohio (PRWEB) January 19, 2012
Sticky Bibs, Ltd. announced that it has brought in Dewain Tennant and Tony Wilson as members of it's Board of Directors.
Dewain and Tony's background has demonstrated experience in pioneering new products. "Their abilities to interact with lead accounts in many markets has made this a unique choice", says Gary Hoerner, Sticky Bibs, Ltd. managing partner. "After a very positive experience through our current sales structure, we are ready to go forward to other retail accounts. Mr. Tennant and Mr. Wilson will be great assets in this venture".
In October of 2011, Sticky Bibs launched and released its flagship product to Amazon.com. Consumer response demonstrated a positive and strong demand for it's reusable and disposable self-stick bibs. Sticky Bibs are made in the USA and can be purchased online through it's website at http://www.stickybibs.com or Amazon.com.
###