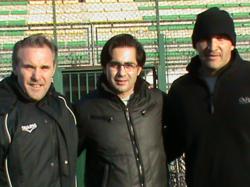 EduKick France International players are inserted directly into this French football Academy. This is an incredible oppportunity for a young player to develop his game in France under professional coaches training daily with high level players.
Cannes, France (PRWEB) January 19, 2012
The EduKick France Hidalgo Junior Football Academy, led by former French Internationals Bruno Bellone and Christian Lopez, offers young soccer players a pathway to Professional French Football.
The goal of the EduKick France Hidalgo Junior Football Academy is to provide an intensive football program in order to optimize the potential of the young football players from 12 to 15 years of age. The Junior Academy course is located in the area of Cannes, the French Riviera, 30km from Nice International Airport. The campus, LES CAMPELIERES is located in nearby Le Cannet. It`s known as the "7 Hills Town", a quaint French village located just a few kilometers from the sandy beaches of the famous French Riviera.
The academy coaches are former French internationals, Bruno Bellone and Christian Lopez. On the field, these two seasoned ex-professionals share their vast football experiences and knowledge with the academy players five days a week in training sessions immediately after school. Day after day the participating players increase their level of play and become more competitive soccer players by training with high level French players their age and by receiving quality coaching.
During the year the players are scouted and the best and most dedicated young players will have the opportunity to sign a contract at the end of the academic year. For the last 5 years, more than a dozen players have signed with the youth academies of professional clubs, including: OGC NICE, AS MONACO, OM MARSEILLE, FC SOCHAUX, RC STRASBOURG, and METZ. Contracts are of course not guaranteed but the track record of this French football academy is very impressive.
Last year, for the U17 group, 6 players signed a professional or semi-professional contracts with French clubs. Dylan BLITO (pictured at right) signed a professional contract at the Centre de Formation of AS Monaco FC. He received a contract with salary and a special package for his family to reside close to him in Monaco.
Another alumni of LES CAMPELIERES currently flourishing in French football is Fabio Genga (also pictured at right). Genga signed with Monaco also as a defender 2 years ago and now he is playing for the U17 French National Team.
EduKick's French football partner, Hidalgo International Football Academy (HIFA) selects the best regional French players to enter into this unique French football development program. They have the opportunity to train daily in a competitive environment and to express themselves with the best players in their age category. EduKick France International players are qualified by the EduKick Head Office and inserted directly alongside the French players that qualified to attend this unique football academy.
International junior academy players attend EduKick France affiliated public school, LES CAMPELIERES, and follow the full-time academic French National Curriculum. In the Junior Academy course the players live with and are cared for daily by our professionally screened and carefully selected local French "host" families. The EduKick France student-players are immersed into French language & culture and experience the French "way of life" by eating, living, training...and interacting daily with their French host family, school mates and French teammates.
Interested international soccer players from 12 to 15 years of age can inquire about the EduKick France - HIFA Junior Football Academy by contacting EduKick at info(at)edukick(dot)com.
EduKick France also offer a "Senior" football course which is a combination of French language immersion and intense, daily football training. To learn more about the senior course, click here.
###