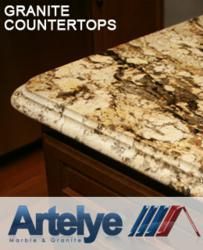 Beltsville, MD (PRWEB) January 18, 2012
Artelye Marble & Granite recently announced the upcoming launch of their brand new website which includes a fresh new modern look ready for the 21st century and the information technology era that we are living in now a days.
Granite countertops was the number one focus for the designers of this project who did an excellent job in portraying the clean and elite look of the new site. "Yes, you can say that we were a little behind the curve for a moment there; but now we are way ahead of the competition with our new online presence," says owner of Artelye with a big smile on his face.
Artelye has also invested heavily in restructuring their online marketing initiatives when it comes to granite countertops in Maryland. Artelye feels that local consumers; homeowners specifically, need assistance when thinking about purchasing their first granite countertops for their kitchen, bathroom, bar tops, laundry room or any other surface. "We have designed our site so that it cultivates our relationship with our existing clients as well as potential ones" says sales manager at Artelye.
Natural Stone has rapidly started to become the number one choice for solid surfaces since 2010 in the Washington DC metropolitan areas. "The natural look you get with granite or marble is just amazing, especially when placed under dim, low-hanging recessed lights that reflect their beauty right out," says client at their local showroom in Beltsville, Maryland.
Artelye Marble & Granite has been around since 1997 offering the best of their service to local residential homeowners, kitchen and bath dealers, builders and also large commercial jobs. Quality is something they embrace not just something they say. You can visit the new website or contact Artelye at 301-931-6616
###