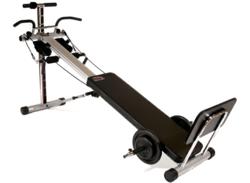 Bayou Fitness is being very generous. What a way to start the year by giving away free Total Trainers. That's like spreading loving care and good health. Bravo BF.
Shreveport, LA (PRWEB) January 19, 2012
As part of an ongoing pledge for a healthier America, Bayou Fitness has created a Total Trainer Home Gym Giveaway a Day initiative to help raise awareness for America's health and fitness levels.
The Total Trainer Home Gym giveaway a day will run every day for the 2012 year. Register to win by entering a name and email address every day at Bayou Fitness Giveaway. A new winner will be randomly selected at the beginning of each day and posted to the Bayou Fitness website as well as social media sites including Facebook.
The Total Trainer utilizes the user's own body weight for resistance, eliminating the need for heavy weights and costly machines. As the user becomes stronger, the resistance level can be increased by quickly and easily raising the incline of the glide board. As a full body home gym, the user can perform a multitude of exercise moves to work each muscle group to provide a versatile and intense workout. To learn more about the Total Trainer, visit Bayou Fitness
Americans wants to be healthier as evidenced by the continuous rise in sales of the Bayou Fitness Total Trainer Home Gym in the last 10 years and Bayou Fitness wants to continue to help America get there by giving away a Total Trainer Home Gym every day. To qualify to win, enter daily throughout 2012 for the chance to win a Bayou Fitness Total Trainer Home Gym.
ABOUT BAYOU FITNESS
Bayou Fitness along with XMark Fitness and First Degree Fitness is marketed by Fitness Solutions Group, Bayou Fitness prides itself on selling quality strength and cardio equipment for home, light institutional and commercial use with free shipping on every order.
###