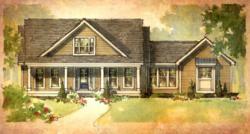 "We created this collection because we knew our customers were going to love it, and the positive reception we are getting really proves that, as does the fact that we broke ground on a home two months after the launch"
Canton, OH (PRWEB) January 19, 2012
In mid-October, Schumacher Homes, America's largest custom on-your-lot homebuilder, introduced The Earnhardt Collection by Schumacher Homes, an industry-first collaboration with Kerry and Renè Earnhardt consisting of 22 designs that focus on casual, outdoor living and home as a retreat. The company broke ground on the first home from the collection December 20. The home sold out of the Greenville, South Carolina Model Home Center less than a week after the launch, while multiple other homes from the collection have sold and will soon break ground across the country.
"We created this collection because we knew our customers were going to love it, and the positive reception we are getting really proves that, as does the fact that we broke ground on a home two months after the launch," said Paul Schumacher, CEO of Schumacher Homes. "This success shows that even when times are tough in the building industry, customers, like the Wray family in South Carolina, still respond to unique, custom plans that fit their lifestyle."
The home was sold to Miriam and Stephen Wray of Landrum, South Carolina who chose to build the Carolina plan to fit their six and a half acre lot which has panoramic views of the surrounding mountains.
"We fell in love with the Carolina plan the moment we saw it. We loved the front porch and the big windows that would allow us to truly enjoy our property and its sweeping mountain views," said Miriam Wray. "The floor plan has an open feel that fits our family and lifestyle perfectly, and the design philosophy resonated with us so much. We can't wait to move in!"
Like all homes in The Earnhardt Collection by Schumacher Homes, The Carolina was inspired by a part of the Earnhardt family's lives. It is named after Kerry's grandmother Mamaw Earnhardt who centers her family in North Carolina. The two-story, two bedroom, and two and a half bath design features an open kitchen, welcoming front porch and a sunroom that fills the home with natural sunlight.
"The Earnhardt Collection provides families with an opportunity to build a home they love that allows them to focus on family and enjoy their surroundings," said Kerry Earnhardt. "We are so excited that our vision is becoming a reality and that customers are finding that the homes we helped design suit their family and lifestyle so well. We can't wait to see the Wray's home completed, and see the other homes built across the country."
As with every Schumacher Home, the plan merely acts as a starting point. Plans can be completely customized to create a customer's dream home. Some popular customization options with The Earnhardt Collection include garages to hold everything from hunting gear to boats and ATVs, as well as outdoor living areas for those who simply can't get enough of the great outdoors.
For more information, visit http://www.earnhardtcollection.com or follow Schumacher Homes on Twitter or Facebook.
About Schumacher Homes
Schumacher Homes, based in Canton, Ohio, is America's largest custom homebuilder, with operations in 32 markets in 14 states across the country. The 2011 National Housing Quality award winning company has built over 8,000 homes since its founding by Paul Schumacher in 1992 – each one unique to the needs and lifestyle of the owners. The company uses an exclusive process to make it as easy as possible for customers to "Live in what you love." Each Schumacher Homes location includes a one-stop design center. Full experience model homes are currently throughout their markets nationwide. For more information, visit http://www.schumacherhomes.com or follow Schumacher Homes on Twitter: http://www.twitter.com/SchumacherHomes or Facebook: https://www.facebook.com/SchumacherHome
About Kerry and Rene' Earnhardt
Kerry and Rene' Earnhardt have shared the spotlight in front of millions of NASCAR fans for more than a decade. They have four beautiful children-Bobby, Jeffrey, Blade and Kayla. Kerry is the eldest son of 7-time Winston Cup Champion Dale Earnhardt. Kerry's racing career began in the early 90's and consisted of competing at all three elite divisions of NASCAR. Kerry is an avid outdoor enthusiast actively supporting conservation and preservation of land and wildlife. For more information, follow Kerry Earnhardt on Twitter: http://www.twitter.com/KerryDEarnhardt or Facebook: https://www.facebook.com/KerryDaleEarnhardt or follow Rene' Earnhardt on Twitter: http://www.twitter.com/ReneEarnhardt
or Facebook: https://www.facebook.com/ReneEarnhardt
###