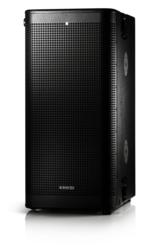 StageSource L3s can achieve a supremely punchy kick and bass for a live rhythm section and reproduce the deep, controlled sub-bass lows of a DJ rig.
ANAHEIM, Calif. (PRWEB) January 19, 2012
Line 6, Inc. (NAMM room 212A/B) proudly introduces StageSource L3s. The new StageSource loudspeaker systems are built on a powerful new technology platform that enables a single enclosure to provide best-in-class performance in multiple live sound functions.
StageSource L3s is the most versatile subwoofer for high-power sound reinforcement applications. Using four innovative Smart Speaker modes, the L3s optimizes its output for a variety of performance scenarios: Reference and High Punch for PA applications, Extended Bass and Ultra Bass for playback applications. Smart Speaker modes can be set manually or via an L6 LINK™ digital network.
"Our new powered subwoofer is uniquely designed to meet the demanding performance needs of both live and pre-recorded music. StageSource L3s can achieve a supremely punchy kick and bass for a live rhythm section and reproduce the deep, controlled sub-bass lows of a DJ rig," said Simon Jones, vice president of new market development at Line 6. "Combined with other Line 6 speakers or integrated into a traditional rig, StageSource L3s goes way beyond the capabilities of a standard powered subwoofer, offering advanced DSP, smart design and true scalability with L6 LINK digital networking."
StageSource L3s features L6 LINK, the new multi-channel digital audio networking protocol from Line 6. Connection to other StageSource speakers via L6 LINK triggers the automatic configuration of the system: crossovers and polarity are set, stereo signals are summed as required, all enabling stunning signal integrity. The L6 LINK signal transmission between speakers is high-resolution digital audio for maximum sound quality. Three threaded pole mounts support multiple configurations with other Line 6 speakers. Stereo inputs and out/thrus provide easy integration with traditional live sound gear.
When connected via L6 LINK, StageSource speakers and the StageScape M20d digital mixer are capable of unparalleled power and flexibility. Together they redefine the typical mixer-speaker paradigm to introduce a smarter live sound experience in which the live rig is a complete, intelligent eco-system rather than merely a linear combination of components.
StageSource L3s features a dual 12-inch bass reflex configuration with 1,200 watts of power for maximum headroom. It can easily deliver punchy and powerful low-end to large audiences.
Boasting tour-grade construction, StageSource L3s features a heavy-duty plywood enclosure, durable fitments and a steel grille with protective screen backing. The robust speaker is also very portable with built-in, "no-rattle" wheels and three handles for easy mobility.
Learn more at http://line6.com/l3s
About Line 6, Inc.
Line 6 products have been at the cutting edge of digital audio development for musicians and audio professionals since the company pioneered the digital modeling guitar amplifier in 1996. Before the Line 6 brand was formed in the mid-'90s, co-founders Marcus Ryle and Michel Doidic were principal developers for the Alesis® ADAT®, the digital multi-track recorder that revolutionized the recording industry. Today, Line 6 produces a wide variety of hardware and software products including POD® multi-effect processors, POD Farm® software plug-ins, Spider® guitar amps, a range of professional instrument and microphone digital wireless systems, digital live sound mixers, and speakers, as well as the Mobile In™ premium digital guitar interface and Mobile Keys™ keyboards for Apple iOS devices. For more information, visit line6.com.
# # #