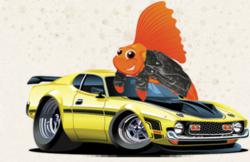 Savannah, Georgia (PRWEB) January 18, 2012
RoadFish.com men's lifestyle and finance magazine states their opinion on the recent news of Paula Deen's type II diabetes and the attack from Anthony Bourdain. Anthony Bourdain, The Travel Channel's culinary traveler, fired off some harsh remarks over Twitter recently regarding the health of, Food Network Star, Paula Deen's cooking and her recent spokesmanship of the pharmaceutical company Novartis who makes the diabetes drug Paula takes to manage her condition.
Anthony Bourdain was quoted as saying, "The worst, most dangerous person to America is clearly Paula Deen. She revels in unholy connections with evil corporations and she's proud of the fact that her food is [bleep]ing bad for you. If I were on at seven at night and loved by millions of people at every age, I would think twice before telling an already obese nation that it's OK to eat food that is killing us. Plus, her food sucks."
As quoted by the editor of RoadFish.com, "Paula Deen's recipes have always been awesome in my opinion. The fact that Paula's southern recipes are rich and fatty doesn't mean they aren't good receipes or that a person is suddenly not responsible for their own health. Yea, she could have done better in what she put in her mouth and exercise, but hey, that was her choice. It is everyone's responsibility to eat properly and take care of themselves."
Paula Deen opened her first restaurant, The Lady and Sons, in 1996 in Savannah, Georgia. She first appeared on the Food Network in 2001. Paula Deen is a household name now.
About RoadFish.com
RoadFish.com is an online men's lifestyle and finance magazine targeted toward men in their 30's and 40's that have already attained a moderate level of success in life, and are striving toward more. It goes over current events of interest to this group, such things as exciting adventures, consumer interests, freedom of speech, as well as ways to make more and save more money. It is a publication owned by Purpose Inc.
###