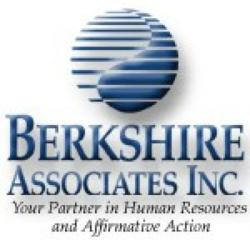 COLUMBIA, MD (PRWEB) January 19, 2012
January 26, 2012, 2 p.m. EST, When it comes to affirmative action planning, there are certain things you know you'll NEVER hear…until now! Berkshire Associates' latest FREE webcast brings human resource professionals together to explore "Five Quotes You Will Never Hear about Affirmative Action Planning." 
This informative webcast discusses real HR challenges when it comes to affirmative action compliance, and provides real expert advice on practical solutions. Attendees will learn about advances in affirmative action planning—including new technology and effective practices to help them overcome common hurdles like data gathering, completing reports, and communicating goals.
Unheard Topics Include:
• "Pop the Champagne! They Just Added Affirmative Action Compliance to My Job Responsibilities."
• "I Love Using an Old System to Prepare My AAPS. It's Vintage—2000 was a Good Year."
• "Dear Compliance Officer, I'm Busy. Can You Bother Me Some Other Time?"
• "Change Regulations and Requirements? The OFCCP Would Never Do Such a Thing!"
• "Fantastic! You Reduced My Workload and Increased My Budget."
The first 50 registrants of this webcast will be entered for a chance to win a Kindle.
Berkshire's webcast facilitator, Client Solutions Manager, Laura Pohopin, states, "I look forward to sharing these five un-heard quotes, and in the process giving attendees an overview of solutions to help them survive an OFCCP audit in today's changing regulatory environment—along with real examples of how other employers successfully manage their affirmative action compliance efforts."
To register for this webcast, click here. To set up an interview with Laura Pohopin, please contact Lauren Collinson at 800.882.8904, ext. 1307 or laurenc(at)berkshireassociates(dot)com.
About Berkshire Associates:
Berkshire Associates is a human resource consulting and technology firm, specializing in helping companies build the ideal, balanced workforce. As an industry leader, Berkshire provides the latest tools and services for affirmative action, applicant management, compensation management, workforce planning, diversity, and professional training. For over 25 years, Berkshire has serviced the nation's most recognizable companies; and as a result has mastered providing clients with cost-effective solutions to everyday human resource challenges.
This press release was distributed through PR Web by Human Resources Marketer (HR Marketer: http://www.HRmarketer.com) on behalf of the company listed above.
###