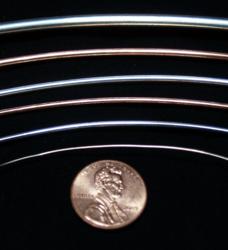 Westminster, SC (PRWEB) January 24, 2012
Ulbrich's complete in house plating and drawing capabilities allow custom plating thicknesses and diameters based on unique applications. Typical properties of this new silver plated material include elongations of 25% minimum, plating thicknesses of 1.25%, 2%, custom plating options, and a full spectrum of final diameters to be available.
Typical finished tolerances:
Diameter Range Tolerance
0.0200" and below +/-0.0002"
0.0201" - .0399" +/-0.0003"
0.0400" - .0599" +/-0.0004"
0.0600" - .0799" +/-0.0005"
0.0800" and above +/-10% DIA
*Note: Above are standard tolerances. Please contact Sales for custom tolerances.
Spooling and packaging options as standard:
22" Reel (400 lbs max) diameters above .020"
D-50 (50 lbs max) diameters above .010" to .025"
D-25 (25 lbs max) diameters up to .030"
*Note: Above are standard spooling options.
Please contact Sales for custom spooling.
"With the addition of silver plated and bare copper to the company's expanding line of materials, Ulbrich is continuing to work to be the one medical supplier for all alloy needs," mentioned Todd Hall, medical product manager for the Ulbrich Specialty Wire Group. "Through our ISO certified facilities and years of working with manufacturers, both large and small, we take pride on providing solutions to most difficult design and manufacturing needs," he concluded.
###