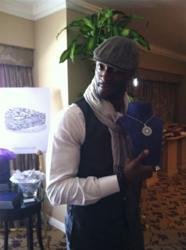 Boston, MA (PRWEB) January 18, 2012
Hearts On Fire, The World's Most Perfectly Cut Diamond®, was in the middle of the Golden Globe action last week in Beverly Hills, CA. Over 5 million dollars worth of dazzling Hearts On Fire Diamond Jewelry was displayed at the Four Seasons in Beverly Hills. Stylists, magazine editors, bloggers, and celebrities visited the diamond suite to view, try on and borrow the perfectly cut diamonds.
Some notable pieces on display were the 68.00ctw cuff from the Sculptural collection, a 9.00ctw Dream Melody cocktail ring, and a 12.00ctw necklace from the Encapsulate collection.
Enjoying the Hearts On Fire Diamond Suite were Aldis Hodge from TV's Leverage, actress and Grammy Award winner Tia Carrere, and Leigh Anne Tuohy, real life inspiration for Sandra Bullock's role in The Blindside.
Stars of film and television including Dawn Olivieri from the hit TV Show House of Lies wore Hearts On Fire's 6.80 carat Rosette Ring as well as the Obsession Diamond Shape Earrings on the red carpet. Joanna Coles, Editor-In-Chief of Marie Claire Magazine and Project Runway All Stars personality, donned the Sculptural right hand ring as well as a pair of Hearts On Fire Diamond studs.
"Hearts On Fire couture are big, bold pieces that really make a statement on the red carpet. After all, the world's most beautiful actresses should be styled with the world's most perfectly cut diamonds!" says Trisha Spillane, Publicity Manager for Hearts On Fire.
About Hearts On Fire Company
The Hearts On Fire Company (HOF) is successfully building the pre-eminent consumer brand in the fine diamond jewelry business, powered by the pulsating energy of its extraordinary diamonds. Founded in 1996, Hearts On Fire has established a new industry standard for diamond cutting perfection, enabling the Company to become the world's fastest growing diamond brand. The Company continues to redefine the industry through its extraordinary diamonds, sophisticated marketing and training programs and unique retail relationships. Hearts On Fire, The World's Most Perfectly Cut Diamond®, is carried in 34 countries, including over 500 U.S. retail locations, as well as locations throughout the U.K., Asia, and the Caribbean. Hearts On Fire now also sells its entire collection online, including diamond engagement rings and wedding bands, necklaces, earrings, bracelets, right hand rings and diamond rings for men. For more information, please visit http://www.heartsonfire.com.
###