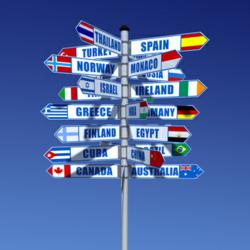 Santa Rosa, CA (PRWEB) January 24, 2012
This week, KQ Insurance Services introduced a new web page showcasing Travel Health Insurance on their site. The new product allows the online agency to offer emergency travel benefits to Americans and non-citizens who are traveling outside of their home country. The international line of business is underwritten and administered by HCC Medical Insurance Services, in association with Lloyd's of London.
"In March 2011, we stumbled on short term health insurance through HCC. When we discovered how many consumers were benefiting from temporary insurance, we asked HCC about other insurance products they offered. We decided to give international travel health insurance a try because it complemented the other business lines we offer," said Esmeralda Mercado.
Travel medical insurance provides protection for many situations not normally covered under a standard health policy. For example, it helps pay for a return trip home if the trip is interrupted by a covered incident, such as death of an immediate family member. Travel health insurance also extends coverage to non-medical emergencies, like incidental home country coverage. This benefit allows travelers who are away for an extended period to be able to return home for a visit before resuming their travel plans. This is especially helpful for non-U.S. citizens who are visiting family members in the United States. Travel insurance is also a good consideration for newlyweds on their honeymoon, couples celebrating a mile-stone event by traveling abroad, business people away on assignment, and people on missionary trips.
In the past, KQ Insurance Services has not aggressively pursued international travel health insurance leads, but they are now testing the waters, beginning with the launch of the new web page.
About KQ Insurance Services
Since 2005, KQ Insurance Services has ranked as one of the top online individual and group health insurance agencies. The company consists of benefits specialists who provide personalized insurance services to individuals and businesses needing assistance with enrollment, quotes, and health plan questions.
###