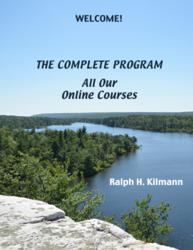 "The Complete Program of online courses can also be viewed on smartphones and Internet tablets, such as the iPhone 4, the iPad, and other mobile devices, which embraces the new world of m-learning.
Newport Coast, CA (PRWEB) January 20, 2012
Kilmann Diagnostics (KD) offers an integrated sequence of five online courses for effectively managing conflict and change, which were previously offered only one at a time. But if you're interested in taking all these courses, KD has recently packaged them as The Complete Program. And because all these courses significantly rely on your understanding—and personalized results—from the Thomas-Kilmann Conflict Mode Instrument (TKI), The Complete Program also includes your TKI assessment.
If you were to purchase all these online courses separately, including the TKI, the total fee would be $1834. But if you purchase The Complete Program, the fee is $1375. You save $459 (25%). In terms of a group rate, if you purchase the program for 10 or more participants, the fee per person is reduced to $1175.
When you purchase The Complete Program, you'll have access to all five Course Manuals (for a total of 576 pages), just as if you had purchased these courses one at a time. And for your convenience, all five courses are available on the same webpage—in the prescribed sequence for taking these online courses. KD also provides consultants, facilitators, and coaches with specific guidelines for holding group discussions with each of the online courses, which amounts to taking these courses with your work unit. These group guidelines thus combine the best of both worlds: face-to-face training and online learning.
In addition, if you successfully complete the optional Final Exam for (a) ADVANCED Training in Conflict Management and (b) Critical Thinking, KD provides a special recognition to signify that you have mastered The Complete Program: Certificate in Conflict Management and Change Management.
And once you've successfully completed all the coursework, you can contact KD to receive 25 CEUs for The Complete Program (for the 25 hours of coursework), certified by the State of California's Board of Behavioral Sciences.
We asked Dr. Ralph Kilmann, the CEO of KD and co-developer of the TKI, why he's offering The Complete Program at such a huge savings: "Consultants and their clients have been enjoying our online courses for a few years now, but they have told us that it's inconvenient to purchase one course after another, especially since the five media players are then on separate webpages. A great feature of The Complete Program is that all the videos and course manuals are now easily accessible on the same page. And instead of a 90-day expiration period for each separate course, customers have access to The Complete Program for a full year. Bottom line: if consultants and their clients are ready to commit to our integrated coursework, it seems most appropriate to offer it to them at a big savings. I believe The Complete Program is a win-win for everyone."
###