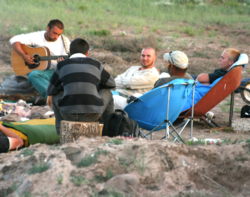 "Despite the economy, TRS continues to grow and improve, both in terms of finances and accomplishments." George Joseph, CEO Right Step & Spirit Lodge
Houston, TX (PRWEB) January 18, 2012
TRS Behavioral Care, Inc., parent company of 20 Right Step and Spirit Lodge drug and alcohol addiction treatment centers throughout Texas, announced today that it has acquired San Cristobal Treatment Center of Taos, NM, greatly increasing the company's geographic reach and leadership position in the chemical dependence treatment field.
TRS, named one of Houston's 100 Fastest Growing Companies for the past two years, ended 2011 with the highest revenue in the company's 22-year history. The San Cristobal acquisition extends TRS' reach beyond Texas and also expands its continuum of care to include adventure-based addiction treatment for young men.
"Despite the economy, TRS continues to grow and improve, both in terms of finances and accomplishments." said George Joseph, chief executive officer of TRS since 1994. San Cristobal Treatment Center is a nationally recognized leader in the treatment of young adult men (ages 17 to 26) who suffer from chemical dependency with co-occurring issues such as emotional/behavioral conditions, psychiatric concerns, low self-esteem, legal problems, low motivation, few practical life skills, and little or no sense of a direction in life. Like Right Step and Spirit Lodge, San Cristobal uses highly-effective, Twelve Step and evidence-based methodologies so there is a natural synergy that will benefit both the company and our clients," Joseph said.
Dave Johnson, CEO of San Cristobal, will continue to manage his team, comprised of addiction clinicians and expert-level adventure and wilderness professionals. "The 90-120 day program takes place on 120 secluded acres where clients discover a "natural high" with a 21-day "wilderness experience," hiking, mountain biking, skiing & snowboarding, whitewater rafting, backpacking, and other program elements such as a high/low ropes course, woodshop, recording studio, horseback riding, and sports," Johnson said. "We are excited that, by joining with TRS, we will elevate our nationally-known status even further through accreditation by The Joint Commission."
More About TRS, Right Step, and Spirit Lodge
Founded in 1990 and now the largest alcohol and drug treatment company in the Southwest, TRS' 20 locations throughout Texas specialize in all levels of alcohol and drug addiction treatment, from detox to aftercare. Client satisfaction ratings exceed 96%, it is one of the 100 Fastest Growing Companies in Houston, Texas, and has earned the nation's highest possible accreditation (The Joint Commission). CEO George Joseph, LCDC, was nationally recognized as a "2009 Behavioral Healthcare Champion" and "National Counselor of the Year" in 2000. He has appeared on the Dr. Oz Show is a guest blogger on that site. Chief Medical Officer Jason Powers, M.D. was voted one of Houston's "Best Doctors" and authored the newly-published When the Servant Becomes the Master. In addition to being an entrepreneurial success story, Right Step and Spirit Lodge are known for an unmatched dedication to valuing each individual and utilizing best practices to help people "live life sober."
###