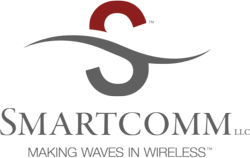 Phoenix, AZ (PRWEB) January 19, 2012
Covering over 35 football fields of floor space, stocked with the latest and greatest technology toys to be on the lookout for, CES attracted companies and investors from all over the world and had its fair share of celebrity sightings, including LL Cool J., Dennis Rodman, Robert Horry, John Sally and yes, even Justin Bieber.
Sara Dople, Spectrum Policy Director at Smartcomm, says "Walking the floor at CES is a foot beating, sensory overloaded adventure…but well worth it! LG's HD 3D display was out of this world with a wall of 3D action taking shape around you. Samsung's 70" Ultra HD, reported at 4X the resolution of the best HD on the market today, defined clarity like I never knew was possible. From connected cars, 11.1 Dolby surround systems to 3D printers for home manufacturing and smartphone powered robotics, there was truly something interesting for everyone to see."
Smartphones and tablets took center stage this year. While LG is still in the game, Samsung attracted the most crowds with the numerous tablets they've released, as well as the new phone Note – the first true crossover between a tablet and a phone with a 5" screen.
CES also sported green initiatives like wirelessly connected wall plugs to track usage, wireless tracking of home utilities from your phone or computer, "smart" strips which automatically cut all wall power to electronics when they are in the off mode, and solar solutions for everything from powering your phone to house generators.
Consumer electronics and the wireless industry are a merging world. You can manage your home through your phone, carry your own multi-mode 4G hot spot featuring LTE, WiMax and CDMA EVDO, and monitor and track your health and exercise wirelessly.
What can be expected in the coming year? "I anticipate we will hear more about the WiGig initiative through the next year and hopefully CES 2013 will have new innovations from that platform," explains Ms. Dople. "WiGig works in the 60 GHz and should provide device docking using less power, with much less interference issues than the currently overcrowded WiFi."
About Smartcomm, LLC
Phoenix-based Smartcomm, LLC provides consulting services and mobile broadband opportunities in the wireless communications industry to both individuals and institutions. The company specializes in opportunities to acquire 800 MHz and 1.9 GHz band spectrum through the filing of license applications, participation in FCC public auctions, or acquisitions in the secondary market.
###