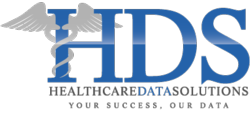 Scott's wealth of knowledge and experience will help lead HDS into an incredible 2012.
Foothill Ranch, CA (PRWEB) January 19, 2012
Healthcare Data Solutions, the most accurate and trusted provider of healthcare databases and healthcare industry business intelligence services, announced today that Scott Thompson has joined their team as Vice President of Technology Solutions.
Scott Thompson brings to Healthcare Data Solutions over 20 years of experience in technology, database management and data processing services. Thompson previously served as Chief Technology Officer at InfoGroup and has led technology operations at Avaya, Lindsay Manufacturing and General Motors. Scott has a Bachelor of Science in Industrial Engineering from the University of Nebraska-Lincoln and a Master of Science Degree in Industrial and Systems Engineering from Purdue University. He also holds a Professional Engineering license and has received two US Patents.
"The addition of Scott to the HDS Team signifies our commitment to continually investing in and improving our data and technology," says Tim Slevin, CEO of Healthcare Data Solutions. "His wealth of knowledge and experience will allow us to expand our offerings and help lead HDS into an incredible 2012."
Also joining the growing Healthcare Data Solutions team are Sales Account Managers Patrick Clark in Doylestown, PA and Todd Foster in Chester, NJ, as well as Sales Support Specialist Crista Tiritilli in Irvine, CA.
About Healthcare Data Solutions
Healthcare Data Solutions is the leading healthcare information services company focused on building and distributing Physician, Pharmacy, Dentist, Nurse, Veterinarian and Hospital databases. HDS provides healthcare data, physician validation programs, data processing, Web services and new customer acquisition programs for leading healthcare firms. With over 2 million healthcare provider profiles and 1 million healthcare provider emails, HDS is the fastest growing healthcare data services company in the United States. For more information, visit HealthcareDataSolutions.com.
###