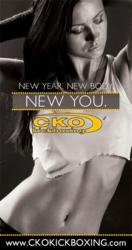 "The Steps are short...simply follow them" Joseph Andreula CEO CKO Kickboxing
Hoboken, NJ (PRWEB) January 19, 2012
We all know someone who posts pictures on their fridge of the ultimate body. Some make the password on their phone "I am 110 pounds." Some chant out loud that they are skinny. There are even these new age theories of meditating while sending positive vibes out and waiting for the Universe to melt away their bodyfat.
However, the vast amount of scientific research proves that there are five steps which significantly increase the chances of you reaching your goals.
1. Write a specific goal and time frame for reaching it. For example, if you are 23% bodyfat, make a goal to be 18% bodyfat in 10 weeks. The goal should be realistic, significant and measurable.
2. Find other people who have great fitness work ethics and start to hang out with them. It is better to workout with people who have proven that they place a high value on fitness. Avoid partnering up with someone who wants to finally get in shape but has proven to drop-out of programs and make excuses.
3. Make five smaller goals along the way. Make a goal to lose 1% bodyfat every 2 weeks and then measure your bodyfat every 2 weeks. After the test, make another 2 fitness commitments to add to your previous ones and do them.
4. Reward yourself for progress. Each time your bodyfat test comes around and you lose 1%, go to the mall and get a 30-minute chair massage or go to the movies.
5. Record your progress. Keep a fitness notebook. Write specific goals with the date that it will be achieved on the cover. Record everything that you eat and drink. Record your workouts in detail, your bodyfat test results and commitments.
The steps are short and no nonsense. Simply follow them.
About CKO Kickboxing: This fitness franchise opportunity began offering fitness franchises in 2008. Currently there are 24 CKO Kickboxing locations open.
Author Note: Joseph Andreula founded CKO Kickboxing in 1997. It is now a Franchise 500 company. He is a Certified Fitness Trainer, Black Belt in Karate and Nutritionist. E-mail him at: Joseph(at)CKOKickboxing(dot)com.
###