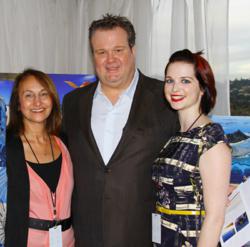 Beverly Hills, CA (PRWEB) January 19, 2012
GBK, the luxury lifestyle gift lounge and special events company featured its luxury gifts, services and charity fundraising on January 13th & 14th on the rooftop of the L'Ermitage Hotel in Beverly Hills.
GBK, the recipient of multiple BizBash Awards for "Best Gift Bag," will present to its private list of invited celebrities, VIPs, and media an opportunity to enjoy an elite environment with gifts, beauty services and hors'derves while tending to its charitable causes.
GBK's sponsors include a wide range of creative, luxurious and select companies who will share their products and accomplishments with industry tastemakers and celebrities while giving back to a greater causes such as poverty and education.
Sponsors included:
Crizal®- No-Glare Lenses Designer Sunglasses with Crizal SunShield™ No-Glare Lenses. Brands include Fendi, Prada, and Burberry.
Sandra Brooks Collection- Handcrafted one-of-a-kind gemstone and pearl jewelry for men and women, creating juxtapositions of organic elements and glitz, modern and traditional, casual and formal elegance.
Air Pacific- will be giving a round trip ticket for two for all Nominees and Presenters to FIJI. They will be staying at one of the exclusive 5 Star Island Resorts, including: Yasawa Island Resort and Spa, Vomo Fiji Island Resort, or Tadrai Fiji Island Resort.
5Star Responder- is a first-of-its-kind wireless, portable device that is an easy, convenient, and affordable way to better protect yourself or those closest to you, at home or on the go. By simply pressing the button on the Responder, users are immediately connected to highly-trained Certified Response Agents who will identify them and their location, conference in family or friends, dispatch 9-1-1 emergency services, access a nurse, or provide any additional assistance, if needed.
Adult Chocolate Milk - is a premium, pour-and-serve vodka-based cocktail with a unique taste and retro-chic appeal that was launched in 2009 by busy moms and lifelong friends Tracy Reinhardt and Nikki Halbur.
AquaHydrate- Purified and refreshing, AquaHydrate is uniquely fortified and engineered to replenish the body differently than traditional bottled water. Raised to an alkaline pH of 9+, and then fortified with electrolytes and minerals it is the WATER FOR PEOPLE WHO KNOW THE DIFFERENCE. Gifting gift certificates for 1 year supply of AquaHydrate water.
Beyond The Rack- is North America's premier online shopping club, offering men and women top designer brand clothing, accessories, beauty, home décor and consumer electronics up to 70% off retail. Gifting clothing for men and women by some of Beyond the Rack's great brands including Dex, Coupe, Triple 5 Soul, and My Tribe.
Bota Box- are premium, award winning wines in 3L box and 500ml tetra pack, convenient, portable and environmentally friendly packages.
Bread Basket Cake Company- Chocolate fudge and French vanilla cream filled dessert topped with a raspberry.
Ajinomoto North America, Inc.- Glysom™ is a safe, effective, scientifically-proven and physician-distributed dietary supplement for deeper, sounder and more satisfying sleep without morning drowsiness* that leaves you fully refreshed for the day ahead.
Earths Berries - An environmentally friendly, organic cleaner that helps keep your whole home clean and safe
eos™ Products- Highly moisturizing, delightfully packaged skin care products, including lip balms, hand lotions, body lotions, and shaving cream.
essie- Silver branded cosmetics bag with 2 luxe effects shades and a essie branded emery board.
Exclusive Sedan Service- A gift certificate worth $100 for chauffeured luxury ground transportation which can be used anywhere in the LA metro area.
Centerville Pie Co.- A Centerville Pie Company signature Chicken Pie made with over a pound of chicken meat, covered in savory gravy & wrapped in a hand-rolled flaky crust.
Cocopotamus Chocolate- Handmade Cocopotamus dark chocolate fudge truffles.
DNA Imprints- A canvas print transformed from a celebrities DNA and married to stunning colors.
G Wear- Eclectic, hand-sewn, one of a kind woman's tee shirts and scarves with design appliqués made from recycled tee shirt materials.
Glymed Plus ® Advanced Aesthetics- The GlyMed Plus FOR MEN Essentials Travel Kit & DNA Reset Face & Neck Cream.
Haan Therapeutics- Latest innovation in Anti-Aging skin care.
HAYARI PARFUMS- HAYARI COUTURE of Paris will be gifting a bottle of their hand numbered "one of a kind" perfume "Only for Her" for the celebrity guests.
Little Black Dress Vodka- Just like its namesake, new Little Black Dress Vodka is designed specifically to capture the essence of what women want in a cocktail: fuss-free, burn-free, and flavorful but with an eye toward calorie count. Little Black Dress Vodka is available in classic and three deliciously natural flavors – pineapple honey, blueberry pomegranate, and black cherry-vanilla.
Macadamia Natural Oil- Stylish canteen shoulder bag containing Healing Oil Treatment, Deep Repair Masque, Rejuvenating Shampoo and Oil infused comb, all you need to quench your hair needs.
Mojo Boost International/Gentech Pharmaceutical- Mojo Boost & Mojo Chill; PhenTabz, weight loss pills; fast, effective, safe weight loss.
NVEY ECO- A collection of high performance, long lasting pure organic makeup, formulated without the use of chemical ingredients such as petrochemicals or synthetic fragrances.
Q Handmade- Custom jewelry specializing in hand-stamped necklaces.
RevitaLash ADVANCED- Newly formulated RevitaLash ADVANCED; eyelash conditioner that lengthens and thickens eyelashes. Introducing a new hair product; Hair by RevitaLash a conditioner that gives you thicker and fuller hair. Also RevitaLash Mascara and Perfect Primer that helps mascara adhere better to eyelashes and enhances eye color.
Robert Graham- Presenting X Collection by Robert Graham, the newest men's sportswear line by Robert Graham.
Sparkling ICE- Naturally flavored sparkling mountain spring water, zero calories with essential vitamins and antioxidants.
SnapSac- Stylish bags were provided by SnapSac, an exciting new line that transforms the common grocery store essential into a stylish multi-purpose tote.
TC™ Intimates- Today's shapewear for todays activities, work, play or an evening out. Shaping that leaves you looking sleek, smooth and comfortable. TC Intimates.
The Artisan Group- an elite collective of over 700 small-business entrepreneurs, showcased a broad spectrum of specialties including handcrafted jewelry; spa and bath products; designer stationery; purses and totes; iPhone sleeves, hand-poured candles; journals; illustrations; and fine art photography.
The Comphy Co.- The chosen favorite for micro-fiber bedding; by leading resorts, spas and celebrities nationwide.
The Fresh Diet- Free trials of premium healthy at-home meal delivery service.
Tweezerman- Preview of the new Fashion Color Slant Tweezer - in Geranium (launching in May) and their beloved ProCurl Curler.
VIE® magazine- VIE magazine is a high-gloss lifestyle publication focused on celebrating interesting people, places, and ideas through the written word. Gifts from VIE magazine include a complementary winter issue of the magazine, a VIE t-shirt, and a VIE by Bare Skin athletic towel whose high absorption, fast drying properties, and light weight make it perfect for all recreational activities. One celebrity will also receive a $2,800 vacation to exquisite Alys Beach on Florida's Emerald Coast.
Voskos Greek Yogurt & YoGreek- Award winning Greek yogurt presenting YoGreek which is a mix of delicious Voskos Greek yogurt & crunch!
DJ Rick Rock & DJ eTunes entertained guests with their beats and latest hits.
This season's GBK Gift Lounge is filled with premium sponsors, supporting celebrities and a wealth of media which will once again support "good will" while enjoying a true Hollywood experience. "GBK will be making a donation to Clinton Global Initiative for this event and a local education fund in FIJI." Stated- Gavin Keilly, CEO of GBK Productions.
ABOUT GBK:
GBK, formerly GBK Productions, is a luxury lifestyle gifting and special events company, specializing in entertainment marketing integration. Formed in 2000 by Gavin Keilly, the company's Founder and CEO, GBK consists of five divisions: GBK Celebrity Gifting, GBK Special Events, GBK Weddings, GBK Charitable Consulting and GBK Marketing/Public Relations. Widely known in the entertainment industry for bringing that little extra something into the Gifting Lounge environment, GBK offers its clients a full range of marketing services. For more information on Gavin B. Keilly (CEO), Carla Domen (VP)
###