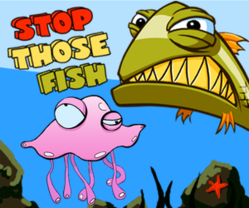 Gameplay reminiscent of 80s classics, but updated with a modern casual gaming look and feel.
Los Angeles, CA (PRWEB) January 20, 2012
Eye Interactive, Inc. today announced the release of its new game, "Stop Those Fish." The game was released worldwide on the Apple App Store as a universal app for the iPhone and iPad. "Stop Those Fish" is the second title from Eye Interactive. The company's first title, "Zombie Samurai," was ranked the #3 free iPad app on Apple's top charts in November 2011.
What is "Stop Those Fish?" According to the company, the backstory is as follows:
"A league of hyper-intelligent fish is plotting our destruction from their secret lair at the bottom of the sea. You are the leader of a small band of bears fighting for the survival of all land dwellers. In this epic battle that pits bear against fish, do you have what it takes to drown the fish uprising before it's too late?
You have one goal…stop those fish. Guide your weapons towards the fish frenzy by drawing a path to the enemy. But remember, the enemy is always in motion. So you must not aim at where they are, but instead at where they will be. Your resources are limited. So it will be necessary to conserve ammo by stopping many fish with a single shot. To help you accomplish your goal, numerous upgrades of your boats, weapons and defenses are available. The game features more than 50 levels that steadily increase in complexity as you fend off a wide variety of enemy fish with different abilities. Don't let them turn the tides on you!"
GAME FEATURES:

Frantic and addictive trajectory-based gameplay!
More than a dozen varieties of enemy fish.
Multiple game modes, including Daytime & Midnight Modes and The Cage.
More than a dozen game scenes.
Boat and weapon upgrades to keep the fish at bay.
Superb graphics and animation with catchy sound effects and music.
P4RC.com rewards, with an exclusive game mode for P4RC members.
OpenFeint and Game Center support (with leaderboards and achievements).
iPhone 4 retina display support.
Universal app support for all iOS devices.
"With gameplay reminiscent of 80s classics, but updated with a modern casual gaming look and feel, 'Stop Those Fish' is an instant classic in its own right," said Jason Seldon, Founder and CEO of Eye Interactive. "There is nothing in the App Store today like 'Stop Those Fish,' with its unique mix of trajectory-based gameplay and strategic defense."
"Stop Those Fish" is also the first title to include the new P4RC SDK from P4RC, Inc. P4RC (pronounced pärk) is a mobile engagement platform that rewards mobile users with P4RC points, which can be redeemed for real-world rewards in P4RC's in-app marketplace.
The game is available on the App Store at a price of $1.99.
Find "Stop Those Fish" on iTunes at: http://itunes.apple.com/us/app/stop-those-fish/id479481004?mt=8
For more information on "Stop Those Fish," visit the official website at: http://www.eyeix.com.
About Eye Interactive, Inc.
Founded in 2010, Eye Interactive is a newcomer to the mobile gaming world. Besides "Stop Those Fish," Eye Interactive is also the creator of the hit game "Zombie Samurai" for iPhone & iPad. To learn more about Eye Interactive, please visit http://www.eyeix.com.
# # #