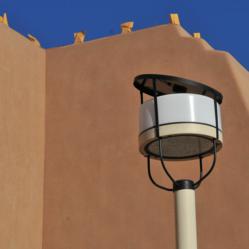 The lights look amazing; the solar panel definitely complements rather than detracts from the design of the fixture – it's quite elegant and doesn't look at all like a traditional panel!
Hawthorne, CA (PRWEB) January 19, 2012
Noribachi, advancing informed grid interaction through smart energy products, enhances parking lot lighting at Sandia Resort & Casino with custom designed LED bulb and solar hybridization upgrades.
Sandia Resort & Casino has developed a strong relationship with Noribachi beginning with an LED retrofit of their parking garage lighting in June of 2010, which resulted in greatly improved light color and quality as well as vastly reduced maintenance and energy costs. Building on the success of Sandia's first LED retrofit, the Resort & Casino again selected Noribachi to upgrade the illumination throughout their expansive parking areas.
The parking lots - some of the largest in the city of Albuquerque - required hundreds of 400W and 175W metal halide bulbs to illuminate them. By switching the outdated gas discharge lamps to equivalent Noribachi LED bulbs that use only 115W and 57W respectively, Sandia will consume almost four times less energy.
This dramatic decrease in energy consumption is further emphasized through the use of Noribachi's solar hybridization technology. Noribachi created custom solar panel additions for 52 of Sandia's fixtures, resulting in Noribachi's second largest solar hybridization upgrade to date.
To create the ideal solution for Sandia, Noribachi specially designed solar panels with a unique circular geometry that fit the lamp's exact dimensions. The panel design itself reflects Noribachi's commitment to high design. It features a sleek black on black look, achieved in part by the use of mono-crystalline silicon – used in place of the far more ubiquitous and inferior poly-crystalline silicon that most panels use. In addition to giving the panel a monochromatic black hue, using this superior silicon increases the panel's efficiency from the typical 12% of most panels to 18%.
The panels allow batteries to charge throughout sunny New Mexico days, while Noribachi's proprietary lighting control system gives the lights the ability to seamlessly switch back to standard grid power if the battery power has been depleted.
"The lights look amazing; the solar panel definitely complements rather than detracts from the design of the fixture – it's quite elegant and doesn't look at all like a traditional panel! We're definitely looking forward to seeing a dramatic energy bill decrease. As far as the light quality, we knew what to expect after seeing the vast improvement in the parking garage, but seeing the same crisp, quality light over a much greater area in the outdoor parking lots left us freshly impressed," says Paul Collins, Facilities Superintendent, from Sandia.
The Sandia upgrade displays Noribachi's comprehensive suite of unique lighting technologies. LED bulbs that are able to upgrade the brightest, most demanding industrial applications, custom high-end solar hybridization, and sophisticated lighting controls, all demonstrate Noribachi's leadership and innovation in the lighting industry.
"We're thankful for Sandia's willingness to implement our solar hybrid technology and for the opportunity to custom design a panel that complements the aesthetic of the resort. We definitely look forward to future projects with Sandia," says Steve Kiziuk, VP of Sales at Noribachi.
ABOUT NORIBACHI:
Noribachi is advancing the concept of informed grid interaction by creating smart energy products, challenging rote relationships with energy and design.
Noribachi's product suite includes lighting, power systems, and custom
engineering and design services.
These products integrate proprietary energy optimization technologies with
renewable power capabilities and an uncompromising devotion to aesthetics.
With over 800 installations – including world class hotels and luxury automobile dealerships – representing a diverse variety of markets across the US and internationally, Noribachi is a leader in integrating smart power and informed grid interaction with distinctive and human-centered design.
Noribachi is a privately held company incorporated in the State of Delaware with offices in Los Angeles, CA and Albuquerque, NM. For more information please visit noribachi.com.
ABOUT SANDIA RESORT AND CASINO
Sandia Resort & Casino is owned and operated by the Pueblo of Sandia. The Pueblo of Sandia is located at the base of the breathtaking Sandia Mountains. The Resort is less than 10 miles from the Albuquerque International Airport. Minutes from Historic Old Town and downtown Albuquerque, it's conveniently located off of Interstate 25, near Balloon Fiesta Park. For more information visit, http://www.sandiacasino.com.
###