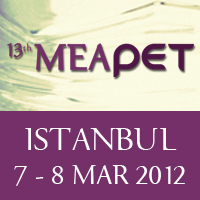 13th MEAPET features PX/PTA/MEG suppliers, PET resin producers and traders, Polymer/Petrochem traders, Converters & Preform manufacturers, Caps & closures makers, Technology providers, Recycling companies, Bottlers/fillers, Brand owners and more
Istanbul, Turkey (PRWEB) January 30, 2012
Taking place on 07-08 March 2012 and with the central theme of "Changing Landscape of the Middle East & Africa PET Industry & Impact on Regional Trade" the 13th edition of the annual series offers latest information on new upcoming PET projects and how the sector in this rapidly developing region will evolve. The 1.5 days meet also brings together top tier officials like Feedstock suppliers (PX/PTA/MEG), PET resin producers and traders, Polyester manufacturers, Polymer/Petrochemical traders, converter & preform manufacturers, Caps & closures manufacturers, Technology providers, Recycling companies, Bottlers/fillers, brand owner and more.
A special highlight this year is a stimulating panel discussion dubbed as Brand Owner's Session on Trends & Challenges for Food Contact, Water & Beverage PET Packaging. The panelists leading this session include Mr. Panchal M.S., Technical Director, Arma Group and Mr. Emrah Guvercinoglu, Direct Material Purchasing Supervisor from Erikli Su & Nestle Waters Turkey.
13th MEAPET also features contributions by industry's most influential names including:

Mr. David Swift, Sr. Consultant, PCI PET Packaging Resin & Recycling Ltd presenting a paper on Organic Expanding Capacity but Diminishing Inter-regional Trade
Mr. Orhun Kutevu, General Manager, Artenius TurkPET addressing new PET resin projects, Raw material challenges in his presentation on Challenges & Opportunities for the Turkish PET Resin Producers.
Mr. Mrigank Dhanuka, Vice Chairman & Executive Director of Dhunseri Petrochem and Tea Ltd elaborating on Going Global: Expansion of the PET Business in the African Continent
Mr. George S. West, Director, Chemical Intelligence reflecting on `Near term synopsis of the potential for shortages if demand recovers in 2012' and `long term strategic outlook based on expected supply and demand', in his presentation entitled Global MEG Markets: The Turmoil Ahead,
Mr. Gordon Haire, Senior Consultant, PCI Xylene & Polyester Ltd. sharing his views on PX/PTA Crunch: What Can be Expected in 2012/13
Mr. Raymond Asuquo, Managing Director & CEO, Zeopol Ltd talk about Trade Outlook & Challenges for rPET as a Commodity Resin.
Mr. Yetkin Türken, Area Sales Manager, S+S Separation and Sorting Technology Gmbh discusses Value Adding Solutions for the Sorting Process in PET Recycling
Mr. Claro Santos, Assistant General Manager / Plant Manager, Lotus Plastic Ltd delivers his paper on Nigerian PET Sector in Transition – Opportunities & Challenges
Besides above, CMT has also secured Gneuss Kunststofftechnik GmbH, SEM Plastik San. ve Tic AS, Farmamak Ambalaj Maddeleri ve Ambalaj Makineleri San. ve Tic. A.S., Parmalat South Africa, Husky Injection Molding Systems Ltd. as speakers at this MEAPET meet.
For more information visit the official event page. For registrations or enquiry on the conference, contact Hafizah Adam at (65) 6346 9218.
###