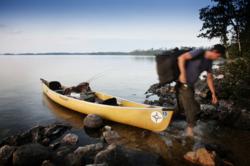 Grand Marais, MN (PRWEB) January 20, 2012
The Boundary Waters Canoe Area Wilderness permit reservation service opens on January 25, 2012. Canoe trip enthusiasts can make their reservation for one of the over 60 entry points into the wilderness area. There are plenty of places to choose from and permits can be reserved online or by phone.
According to canoe outfitter Mike Prom from Voyageur Canoe Outfitters reserving a BWCA permit is an easy process. "We just need contact information for the party leader, a name of an alternate leader, the entry point and the entry date."
Folks can reserve their permits online at the Recreation.gov website. In just a few simple steps you can secure your wilderness permit for travel from May 1-September 30th.
The cost of a BWCA reservation is minimal. At the time of the reservation a $6.00 permit reservation fee is charged as well as a minimum of two $16 adult user fees. The remainder of the user fees are paid upon permit pick-up. You'll choose a permit pick up location at the time of your reservation. Most BWCA canoe trip outfitters are US Forest Service Cooperators and can issue your permit. Just choose the outfitter of your choice or the permit will be sent to the nearest USFS Ranger Station.
If you need help choosing an entry point into the BWCA then ask an outfitter for advice. They can give you ideas based upon what you want to do during your canoe trip. There's plenty of time to plan your canoe trip and plenty of permits available for you to reserve starting January 25th, 2012.
###