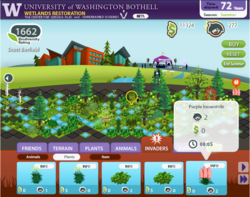 Already we have been able to show our Center for Serious Play students how to drive a game from concept to release. And, as far as we know, this is the only academic game design program in the U.S. geared toward undergraduates. said Jordan Weisman.
Bothell, WA (PRWEB) January 19, 2012
The Center for Serious Play (CSP) at University of Washington Bothell today released UWB Wetlands Restoration game, a free-to-play Facebook game that centers on the restoration of the Wetlands located on the Bothell campus. Created by undergraduate students at the university's Center for Serious Play, the UWB Wetland Restoration game has players build a wetland from beginning terrain to fully functioning ecosystems. Uniquely, the UWB Wetlands Restoration game was built under the guidance of Dr. Warren Gold, the Director of the UW Restoration Ecology Network and faculty at UW Bothell, and Jordan Weisman, the interim Director of the CSP and a well-respected developer in the video game industry, creating a cross-discipline educational experience for the participating students.
The UWB Wetlands Restoration game contains familiar social gameplay elements, where players create and maintain a biologically diverse wetlands environment in a fun, interactive way within Facebook. Its gameplay cycle lasts 25 real-time days and shows players the evolution of the environment from a blank landscape to a fully functioning wetland that represents 50 years of real world progress. The gameplay is centered on an ecological concept called succession, which highlights the timeframe and sequencing of events that occurs in ecological restoration. Succession involves the development of terrain and plants, along with the migration of animals to an area to form a biologically diverse ecosystem. Within the game players add to an environment to mimic succession and they can measure the success of the progression of their wetlands through a biodiversity rating that uses point values for each item in game.
To create a successful and thriving wetland, players will need to buy resources. Players use two types of in-game currency – grant funds and donations – both can be used to develop certain aspects of the in-game wetlands. Grant funds are awarded at the beginning of gameplay and throughout the process. Donation dollars are accrued by inviting friends to play the game, helping other players clean up their wetlands, holding events to raise money, or spending real dollars to purchase in game currency. 80% of proceeds from the UWB Wetlands Restoration game go to wetlands restoration of the real UW Bothell Wetlands and wetland education in and outside of the classroom, while 20% of the game proceeds goes to support game maintenance.
"UWB Wetlands Restoration game success is three-fold," said Jordan Weisman, interim director at the CSP. "Already we have been able to show our Center for Serious Play students how to drive a game from concept to release. And, as far as we know, this is the only academic game design program in the U.S. geared toward undergraduates. Our secondary goal is to educate our players on the importance of wetlands restoration and bring a greater understanding of UW Bothell's efforts to a larger audience."
This game was made possible by an interdisciplinary collaboration between UW Bothell Associate Professor Warren Gold and Center for Serious Play students and staff. Gold wanted to create a way to make environmental sciences learning relevant to students who live in an electronic world, and brought his vision to the Center to see how game narratives could be used to accomplish this goal. Center students worked in conjunction with UWB's Environmental Studies program for research gathering and to ensure that every gameplay and nature element was accurate.
About UWB Wetlands Restoration
In UWB Wetlands Restoration, players start with a bare patch of land where they place terrain, various water features and plants that provide shelter and food to entice animal species to join the wetlands ecosystem. Each animal and plant has an array of data associated with it, including life span, nutrients required, biodiversity ratings, scientific descriptions and more. Once placed, items take time to mature into their final state.
The game is also broken into two seasons – summer and winter. In the summer, waterways can be laid out and terrain features like ponds can be placed. Not all is safe, though, as this is the season when invasive species can arrive. Winter is the planting season. During the game's winter season, players can see the impact certain items have on the environment and how these items may change through the seasons. As the plants, terrain and animals mature, their biodiversity rating will be added into the total rating for the player. Over the course of the game, the player should develop an appreciation of the complexity of a natural system and how that complexity is built up over time from one species to the next.
Additional Game Play Features

Game items include waterways and other features such as snags, rock piles, birdhouses, ponds and logs, which are necessary to attract certain species. A wide range of 30 plants that can be placed includes grass, herbs, trees and shrubs.
Once the basic landscape has been set, it becomes attractive to a variety of mammals, birds, fish and amphibians/reptiles, from swallows and mice to bald eagles and cougar. To keep the wetlands under control, players must maintain their ecosystem and be ready to remove invaders who could cause harm to the environment.
To aid in the development of their ecosystem players are able to take advantage of a tutorial and pop up screens that provide guidance and give pointers on what to do next. Through the process players are able to learn more about all the items in their game by viewing relevant in-game videos.
About Center for Serious Play
The Center for Serious Play's (CSP) mission is to transform education and foster community development by bridging the gaps between innovative design, development, teaching and application of interactive media technologies. Building on UW Bothell's signature strengths in interdisciplinary inquiry and hands-on learning, CSP brings together faculty, students, and industry partners to make a serious impact in diverse fields such as P-12 and higher education, health care, and sustainable environments. CSP fosters the development of innovative products, services and processes through team-based projects and partnerships with industry and educational communities.
About UWB
The University of Washington Bothell combines the benefits of a small campus with the resources and prestige of a world-renowned university. Offering over 30 degrees, options, certificates and concentrations, its curriculum emphasizes close student-faculty interaction, collaboration among students, and hands-on learning. For more information, visit http://www.uwb.edu.
###