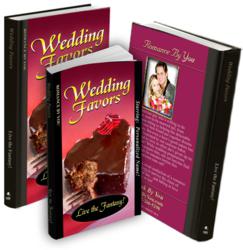 Humorous wedding catastrophes, romance, heartache, five customizable characters and a guaranteed happy ending. Wedding Favors will tickle your funny bone and is an unforgettable Valentines gift for romantics!
London, ON (PRWEB) January 19, 2012
Book By You® the world's leader in publishing personalized books, today announced the release of it's newest personalized romance novel, Wedding Favors, a perfect Valentine's Day gift for everyone who's ever experienced—or is about to experience—the fun and frenzy of that most romantic occasion. To sweeten the package even further, each copy of Wedding Favors purchased through January 24 will come with an extra free treat: a scrumptious Blissful Brownie, individually wrapped and perfect for sharing—or keeping for yourself as a treat!
In Wedding Favors, the personalized heroine is a talented baker helping a friend with her upcoming nuptials, not realizing just how frenzied things will get. She soon bumps (literally) into a genuine Nice Guy, our hero, who's also lending a hand with the wedding as a friend of the groom. Despite the instant chemistry, our heroine wants nothing to do with romance, having sworn off dating for a long while. But the good-natured hero (with a little help from the heroine's best friend) manages to get behind her defenses, and soon the lovely baker has something far sweeter to deal with than acres and acres of her chocolate desserts.
Customers co-author Wedding Favors by visiting the Book By You website and completing the questionnaire with over 30 features to personalize, including the heroine, hero, the heroine's best friend, the bride and groom, as well as features such as hair color and length, eye color, and body type… even a dog or cat! Customers can also upload a picture for the back cover of their beautifully bound, 187-page hardcover or paperback edition.
Michael Pocock, founder of Book By You, commented, "This book has it all! Wedding catastrophes, humor, romance, heartache, lots and lots of fudge, five customizable characters and a guaranteed happy ending -- Wedding Favors will be a surefire hit this Valentine's Day. (And for those planning their own weddings, it'll make a fabulous bridesmaids' gift throughout the year.) The delicious Blissful Brownie is our free gift to you, and it's almost as delectable as the book itself."
To purchase a personalized novel, readers go to the company's website, BookByYou.com, and complete a character questionnaire specifying the information to be included in their book. The company offers a free demonstration area where readers can preview personalized excerpts from each of the company's 42 novels.
Media interviews and promotional photographs are available upon request.
# # #