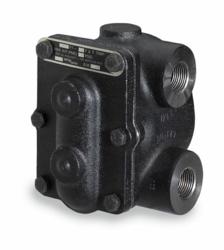 As steam trap experts and suppliers, we at Steam Trap Supply only offer high-quality products for your business.
Brooklyn, NY (PRWEB) January 19, 2012
If your business thrives and greatly depends on steam, it is imperative to establish a solid partnership with a supplier that understands the importance of efficiency and reliability in steam systems. At Steam Trap Supply they know how important it is to have a reliable supplier of high quality products, that's why they provide only the best in steam traps. Spirax Sarco traps are some of the top quality steam traps available. Steam Trap Supply is running great discounts on all steam traps and reagulator valves this January.
Steam Trap Supply carries the full Spirax Sarco line of traps for steam. They also provide the best knowledge, service, products and solutions pertaining to the control and efficient use of steam, air and other industrial fluids. For almost a century, Spirax Sarco's products have been helping steam users optimize productivity. Steam Trap supply is a premier carrier of Spirax Sarco products and they believe that steam efficiency is a vital component of any steam system. This January Steam Trap Supply is proud to supply Spirax Sarco innovations, such as the newest Sarco steam traps to help lower costs by improving the efficiency of your steam systems.
Spirax Sarco makes a wide variety of steam traps. These include: and float and thermostatic traps, thermo-dynamic traps, balanced pressure traps, and inverted bucket steam traps. Sarco traps are especially designed to provide steam system solutions for various applications. Spirax Sarco traps such as their thermo-dynamic steam traps combine reliability, simplicity, and efficiency of operation. These Sarco traps have a hardened stainless steel disc which gives a blast discharge with clean, tight shut-off.
Float and thermostatic steam traps, meanwhile, can drain condensate as quickly as it forms while simultaneously removing air and non-condensible gases. Spirax Sarco steam traps come in cast iron, ductile iron, carbon steel, and stainless steel designs.
Steam traps are a vital part for the efficient operation in any steam system. The quality of the steam traps one uses influences an entire steam system's function and reliability. To get the best and most trusted steam traps for ones business visit Steam Trap Supply. They also carry a wide range of Armstrong traps including the remarkable trap valve station that integrates valves and traps into one versatile package. The bonuses are quicker installation, self-cleaning action, in-line repairability, and more!
Don't be shortchanged by mediocre products! At Steam Trap Supply they provide the most efficient steam traps that will contribute greatly to any steam system's proper operation.
###