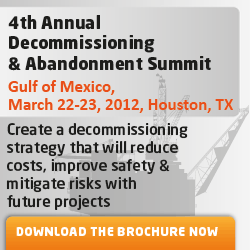 (PRWEB) January 23, 2012
Sources at DecomWorld stated that in October 2010, the NTL mandate came into effect creating a huge boost in decommissioning projects in the Gulf of Mexico. For the first 6 months of 2011, the industry abandoned 671 wells and removed 62 structures from the offshore continental shelf.
In a decommissioning market valued at $30bn-$40bn (DecomWorld, 2012) this spike presents a vast opportunity for service providers in the Gulf of Mexico. On the flip side, increased regulatory burden, combined with the HSE issues and technical challenges that inherently accompany increased activity, will place heavy demands on both operators and contractors.
To address these issues, Chevron have now confirmed that they will be joining BSEE and other Gulf of Mexico operators; Apache, BP, Shell, Chevron, Taylor Energy, Stone Energy, Anglo-Suisse Offshore Partners, Black Elk Energy, Williams and more at DecomWorld's 4th Annual Gulf of Mexico Decommissioning & Abandonment Summit in Houston, March 22-23, 2012, to utilize latest industry experience and reduce costs, improve safety & mitigate risk on all future decommissioning projects.
Lewis Dennis, Gulf of Mexico Decommissioning Manager at Chevron will join the other 800 attendees in Houston to discuss new methods to improve safety in high-risk areas. His presentation will address key issues including the positives of technological innovations and ways to improve safety during cutting projects. Lewis is responsible for all of Chevron's upstream decommissioning activities in the Gulf of Mexico, which is one of the larger abandonment portfolios in the industry.
Register now to secure your place at the principal decommissioning event where strategies will be mapped, game-changing technologies showcased, and key deals brokered.
For more information on the 4th Annual Decommissioning and Abandonment Summit which is taking place in Houston Texas on March 22-23 visit http://decomworld.com/decommissioning/download-brochure.shtml
Or alternatively contact Dean Murphy
###