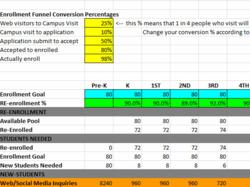 "The enrollment marketing activity calculator is a great planning tool," said Brendan Schneider, Director of Admissions and Financial Aid, Sewickley Academy. "The calculator provides a flexible model that quickly demonstrates the importance of efficiently
Shirley, Massachusetts (PRWEB) January 19, 2012
Innovative Marketing Resources, a strategic marketing company based in Shirley, Massachusetts, today announced the release of a new tool used to forecast marketing activity required to meet school enrollment targets. The tool is designed to increase the effectiveness of schools marketing and admissions officers as they model and plan schools marketing expenditures to achieve full enrollment. The school enrollment marketing activity calculator uses a conversion effectiveness model by grade level to enable schools to plan marketing campaigns, messages and tactics that attract the specific parents and students they need to engage to achieve full enrollment.school admissions marketing activity calculator
"In our experience schools marketing to fill enrollment vacancies often spend more than they need to or spend in the wrong places because they don't have good modeling of their enrollment process that spans all grade levels," said Kevin Jorgensen, Partner at Innovative Marketing Resources. "We have taken our experience working with some of the best private school brands and combined it with the science of an enrollment funnel and conversion events to help school admissions officers visualize the marketing activity investment required at each grade level in order to achieve full enrollment."
Making School Admissions Marketing Add Up
The school admissions marketing calculator is designed to work with popular spreadsheet programs such as Microsoft XL 2007 and higher on either a PC or Macintosh. After a school creates its admissions funnel with the calculator, it can use the 7 steps in Innovative Marketing Resources' new 2012 Schools Marketing Blueprint to implement and track its marketing campaigns.
Brooke Freedman, co-director of the non-profit/.EDU programs at Hubspot added, "One of the challenges we see for school admissions marketing is thinking about marketing as a process. Relationships with prospective students and parents develop over time, based on a series of engagements. Innovative Marketing Resources' enrollment marketing calculator is a powerful tool that enables schools to model their existing process and project the level of marketing investment required to achieve enrollment goals."
The enrollment marketing activity calculator is a free resource that can be downloaded from Innovative Marketing Resources' website.
About Innovative Marketing Resources
Innovative Marketing Resources provides inbound marketing, brand marketing and website development services that help its clients gain maximum ROI from their marketing investments. Innovative Marketing Resources is a Certified HubSpot Agency Partner, providing best-in-class inbound marketing strategy, design and integration with HubSpot software, training and support, content creation and promotion, web analytics and lead tracking. Based in Shirley, MA, Innovative Marketing Resources serves small to medium sized business throughout the United States. We offer a free lead generation analysis and comparison with your competitors. Please visit Innovative Marketing Resources to request your free report.
For more information contact:
Kevin Jorgensen, Partner
kjorgensen(at)imrcorp(dot)com
978-425-3100
# # #