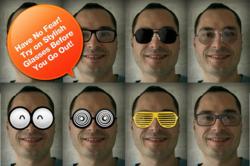 Seoul, South Korea (PRWEB) January 20, 2012
iGLASSES, a feature-rich photo editing application with a unique sense of humor, has made its debut in the iTunes App Store. The application comes from developer Green Cloud, and offers users the chance to jazz up personal photos in a uniquely fun manner.
iGLASSES gives users the opportunity to turn ho-hum photos into hilarious keepsakes, preserving memories and creating new ones. The application's premise is simple: funny glasses are a joke that never grows old. Upping the giggle factor of a photo couldn't be easier when iGLASSES is in one's library of apps.
iGLASSES presents fans with a selection of 100 pairs of cartoon "glasses" (the term is used loosely in the case of super-silly selections like a pair of fried eggs!) which can be applied to photos saved on the iOS device, or taken within the application. It's this brilliantly simple, fun feature that will capture imaginations, but iGLASSES will build its lasting success on the finesse with which the application was designed.
The virtual glasses can be repositioned horizontally and vertically, angled, and resized in order to achieve a perfect "fit" on the photo's subject. And iGLASSES makes sharing the results simple, with built in email, Facebook, and Twitter sharing options. Photos in the iGLASSES app album can also be saved to the user's gallery, allowing limitless possibilities!
iGLASSES is free to download, and is a great addition to users' iPhones and iPods; the versatile and endlessly entertaining new application is destined to make a splash at the App Store.
Device Requirements:

iPhone, iPod touch, and iPad
Requires iOS 4.2 or later
16.8 MB
Pricing and Availability:
For a limited time only, iGlasses 1.0.1 is free and available worldwide exclusively through the App Store in the Photo & Video category.
###