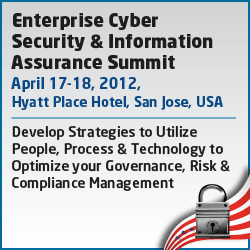 (PRWEB) January 23, 2012
Along with Dr Ernest McDuffie the Enterprise Cyber Security & Information Assurance Summit hosts FC Business Intelligence and The Global Institute of Cyber Security and Research are also pleased to be welcoming an array of cyber security expert speakers including:

Larry Clifton, CEO and President of the Internet Security Alliance will be covering ISA's leading Enterprise Wide Risk Management Template case study
Peter Allor, Senior Security Analyst at IBM will be presenting on building long term incident response plans
(Ret) General Mick Kicklighter of the Centre for Critical Infrastructure Protection and Homeland Security is discussing the economic and legal incentives for cyber security
John Chesson with The FBI will be giving an overview of the FBI InfraGard partnership
Ken Baylor, VP Anti-Fraud for Wells Fargo will be debating the need for a technical and legal governance policy.
Other expert speakers include Tom Kinney, CISO for Raytheon and Jay Bavisi, CEO & Founder of EC Council.
Our full speaker line up and targeted agenda can be discovered by downloading the brochure at:
http://www.cybersummits.com/enterprise-cyber-security-and-data-privacy/conference-event-brochure.php
This ground breaking forum will also cover crucial topics including key emerging technologies such as securing the $300bn 'Big Data' industry, mobile technology, integrated compliance management and GRC policy.
The summit co-hosts GICSR made the following statement in regards to the itinerary: "The Enterprise Cyber Security Summit will address the key issues in the Industry and provide the security, and technology-related insight necessary to make the right decisions."
This revolutionary forum uniting the industries driving the Cyber Security sector forward including; banking, telecoms, healthcare, energy and defense with innovative solution providers such as IBM and SAP to ensure this sector can move forward together. Some of the topics at the heart of discussion will include:
Developing strategies to utilize people, process & technology
Gaining a positive ROI on your security and technology investment
Optimizing your governance, risk & compliance management
If cyber security is on the agenda for your enterprise then you need to be here.
For more details on the line-up of speakers that include innovation leaders from across the industries driving advancements in cyber security download the brochure at:
http://www.cybersummits.com/enterprise-cyber-security-and-data-privacy/conference-event-brochure.php
###