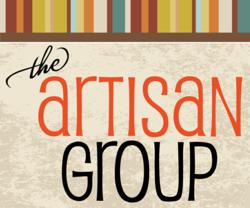 Sunnyvale, CA (PRWEB) January 23, 2012
The Artisan Group, an elite collective of over 700 small-business entrepreneurs, was recently a sponsor at GBK's Luxury Gift Lounge honoring the 69th Annual Golden Globe Awards Nominees and Presenters on January 13-14, 2012 at the L'Ermitage Hotel in Beverly Hills, California.
Attending celebrities received an exclusive swag bag containing a collection of handcrafted jewelry, spa and bath products, fine art photography, journals, hand-poured candles, designer stationery, and other accoutrements, valued at over $800. Members of the press and media also received an assortment of handcrafted products.
Some of the celebrities who took home The Artisan Group's exclusive swag bag include Jennifer Love-Hewitt, Jeremy Irons, Elizabeth McGovern, Eric Stonestreet, Janina Gavankar, Anthony Anderson, Rico Rodriguez, Sarah Drew, Thomas Gibson, and Rachel Crow, among many others.
Valerie Guerrero of The BeezKneez Designs (The Artisan Group's Founder) gifted a set of designer stationery with envelopes.
Nikki Cutro of 13 Black Cats Designs, (Managing Partner) gifted a hand-painted bookmark.
Melissa Arnold of Sahetah's Jewelry gifted hand-dyed Lucite flower earrings with Swarovski Crystals in multiple colors.
Rosalba Berardi of Piccolo Paradiso gifted handmade artisan soap, custom-made soap for the event.
Kristine Bessell of Cherry Tree Soaps gifted two-ounce jars of their Ultra Rich Body Butter in various scents.
Judit Blumenfrucht of JuditB Jewelry gifted various silver/Swarovski crystal earrings and geometric pendants.
Amber Bryce of Blue Scarab Jewelry gifted .925 genuine gemstone Ethereal Charm necklaces.
Marie "Wee" Caloggero of Wee Bindery gifted leather mini-notebooks.
Deborah Carducci of Villa Lusso gifted four-ounce candles in assorted scents.
Deanna Crowe of Barefoot Bath and Body gifted eight-ounce soy candles.
Sandy and Stevie D'Andrea of Jewels For Hope gifted Swarovski crystal and pearl necklaces.
Andie Dietz of Java Jane Designs gifted 5x7 "LOVE" prints in black and white alphabet photos.
Dave Dilli of Dave Dilli Photography gifted three fine art photography photocards.
Maryann Dolzani of I Am Maryann gifted her I AM ENOUGH necklaces.
Holly Freese of Expression Rings of Hope gifted Swarovski crystal rings.
Alexis Gopal of Alexis Studio Design gifted Asian Moonlight earrings.
Susan Harbourt of Luster Metalworks gifted textured, reclaimed copper cuffs in their Quatrefoil Design.
Holly Hatam of TearDrop Paperie gifted a set of five designer notecards with envelopes.
Gary Hirsch of Botjoy gifted hand-painted "Love Bot" necklaces.
Lauren Hoehn of LapisBeach gifted hand-knit metal cuffs with ivory freshwater and glass pearls.
Laura Hudson of Simply Paperie gifted small custom-designed journals and designer thank-you notes.
Jenny Jafek-Jones of The Crimson Poppy gifted gift certificates for do-it-yourself paper flower kits.
Meena Kumar of SwirlyGarden gifted hand-painted stemless wine glasses in various designs.
Rachel Leathers of Hearts of Stone Jewelry gifted "Love the Globes" mahogany Obsidian Heart Chandelier earrings.
Angela Long of Longrunners gifted hand-sewn passport covers.
Christine Lorenzo of SariBlue gifted Evil Eye pendants on silver chains.
Carrie McQuaid of Caroline G gifted double-Chiffon headbands.
Kathy Messick of Kath's Elegant Accessories gifted floral accented wire-knitted pendants.
Kelly Mitchell of The Write Stuff Design gifted a set of designer notecards.
Tara Rex of TaraDara gifted hand-sewn iPhone sleeves.
Joy St. Claire of Oh Joy! Photography gifted 2012 fine art photography desk calendars.
Kelly Taylor of Cassia Aromatics gifted artisan soaps scented in her signature Thai inspired blend featuring Mali Blossoms.
Photos of display pieces and contact information for all participants of this event can be found in The Artisan Group's official Golden Globes Event Guide. Visit our website to view photos of all celebrities who visited our exhibit.
A juried community of talented artisans, The Artisan Group provides a sampling of handcrafted products to celebrities and members of the press at major award show Gift Lounges leading up to The Academy Awards, The Golden Globes, the MTV Movie Awards, and The Primetime Emmys.
Members of The Artisan Group showcase a broad spectrum of specialties, including handcrafted jewelry; spa and bath products; designer stationery and paper goods; crocheted apparel; children's tutus, apparel and toys; ceramics; purses and totes; hand-poured candles; book binding and journals; illustrations and paintings; hand-dyed scarves; fine art photography; hair accessories; pet apparel and toys; and woodworking products.
The Artisan Group also offers its members guidance in the areas of sales, marketing, social media, and public relations.
Follow us on Facebook, Twitter, and our Blog for more information on our upcoming celebrity events. A collection of our member's products are available on our Pinterest boards.
Press inquiries may be directed to press(at)theartisangroup(dot)org.

The Artisan Group is not in any way associated with the Academy of Motion Picture Arts and Sciences, The Hollywood Foreign Press Association, or The Academy of Television Arts & Sciences.