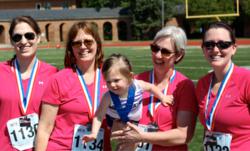 "The Colonial Williamsburg area is an incredible race venue. Its absolutely beautiful" Mary Norris, race participant
Williamsburg, Virginia (PRWEB) January 24, 2012
On May 19th and 20th, 2012 the Run for the Dream will return to beautiful and historic Williamsburg, Virginia. Participants have a choice of running a half marathon or an 8k Run/Walk. The Kids Fun Run (14 yrs and under)features three lengths: 100 meter sprint, 400 meter dash or one mile run.
In addition, the Run for the Dream is proud to host the 2012 USA Masters 8 km National Championships. Dave McGillivray, famed race director of the Boston Marathon, is the race director of the Run for the Dream.
Last year during the inaugural race, over 4,000 runners from 48 states and 5 countries came out to stay fit and raise money and awareness for Achievable Dream Academies and Wounded Warrior programs.
The Run for the Dream is ideal not just for serious runners, but families, couples and those looking to enjoy the outdoors. All races start on the picturesque campus of the College of William and Mary, wind through Colonial Williamsburg's Historic Area and finish in the College's Zable Stadium. The half marathon route also takes runners on the scenic Colonial Parkway and along the James River.
The first 3,000 half marathon and all Wounded Warrior registrants will receive free passes to Busch Gardens plus a 15% discount for family and friends. Colonial Williamsburg is providing free single-day Historic Area passes for the first 6,000 participants and a 50% discount for family and friends. Special rates are available at Colonial Williamsburg hotels for overnight or extended stays before and after the race weekend. Additionally guests will receive free Colonial Williamsburg passes for the length of their stay.
Saturday evening all runners, friends and family can attend A Salute to the Nation on Colonial Williamsburg's Palace Green. This event honors the unique spirit of America and 250 years of history. This special program features music and memories, hosted by National Memorial Day Concert host Joe Mantegna, and concludes with a fireworks display. A Salute to the Nation honors all who serve our country with special recognition for Wounded Warriors.
So whether you are running for the first time, running with family and friends or running to raise awareness and funding for Achievable Dream Academies and Wounded Warriors, register now! The Run for the Dream promises to be bigger and better in 2012. For information, visit http://www.RunForAchievableDream.com.
###