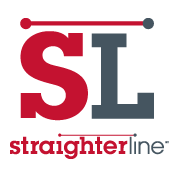 The President has asked the nation to think creatively about how to reduce college costs. Together, LearnShare and StraighterLine can help make online learning much more affordable for corporations and their employees."
Baltimore, MD (PRWEB) January 24, 2012
StraighterLine (StraighterLine.com) announced today that LearnShare, a consortium of Fortune 1000 corporate learning leaders and developer of next generation SaaS Talent Management System solutions for managing today's human enterprise will be offering StraighterLine courses as an option to their corporate clients as a new college credit offering. The addition of StraighterLine's extremely flexible self-paced online college courses to existing workplace programs provides employees with developmental and college level courses that earn credits and can be used toward a college degree.
Employers benefit by providing additional educational options and career advancement opportunities for their employees that can be taken online, on their own schedule, enhancing their skill set without sacrificing productivity or losing work time. They are also giving their employees the opportunity to save even more on their college education. StraighterLine's affordable online college courses allow students to save up to 90% on their first year of college. Course credits transfer to StraighterLine's partner colleges and universities or through the ACE Credit service.
With StraighterLine, participating LearnShare clients can now provide greater course variety to their employees. Currently, StraighterLine offers thirty-six entry-level college courses online including College Algebra, Precalculus, Calculus I, Calculus II, Business Writing, Introduction to Biology, Introduction to Biology with lab, General Chemistry I, General Chemistry I with lab, English Comp I, English Comp II, Accounting I, Accounting II, Managerial Accounting, Macroeconomics, Microeconomics, Business Statistics, Anatomy & Physiology I & II, each with a lab option, Medical Terminology, Psychology, Introduction to Business, Introduction to Criminal Justice, Introduction to Nutrition, Introduction to Sociology, Western Civilization I, Personal Finance, United States History I, Student Success and two developmental courses.
"The President has asked the nation to think creatively about how to reduce college costs. Together, LearnShare and StraighterLine can help make online learning much more affordable for corporations and their employees." says Burck Smith, CEO and founder of StraighterLine.
"LearnShare continues to partner with high quality content providers and education services companies that offer cost effective alternatives that support the learning and development needs of corporate organizations. We are excited to offer StraighterLine's innovative approach of ultra-affordable and flexible college courses to LearnShare clients and their employees. Through this relationship we can help our clients and their employees save money by lowering the cost of tuition, gain convenience, and dramatically reduce the financial risk of starting college." – Randy Consolo, Vice President of Business Development
About LearnShare
LearnShare provides talent management software solutions that enable Fortune 1000 companies to measure, motivate and manage the development of their most important asset. The brainchild of distinguished human resource professionals - not software developers - LearnShare uses a proprietary process to adapt its flexible, integrated suite to the unique needs of its clients on a global scale. For more information, visit LearnShare.com, or call 800-503-2789.
About StraighterLine
StraighterLine has been recognized as a revolutionizing force in education by major news organizations and the U.S. Chamber of Commerce for offering students online courses that earn real college credit for just $99 a month. Fast Company named StraighterLine one of the "10 Most Innovative Companies in Education".
In order to facilitate the award of credit, StraighterLine has forged partnerships with leading accredited online colleges and universities. A student ultimately earns a degree from those institutions but realizes tremendous savings and convenience by starting with StraighterLine.
StraighterLine's courses are evaluated and recommended by the American Council on Education's College Credit Recommendation Service (ACE CREDIT). In addition to the institutions with which StraighterLine has a direct relationship, more than 200 other schools are reported to have accepted StraighterLine coursework for transfer credit.
Compared to online courses from a typical college or university, StraighterLine's courses have been found to offer equal academic rigor but with more affordability, convenience and student satisfaction. Students earn real college credit and see StraighterLine courses help them complete a degree.
Currently, StraighterLine offers 36 entry-level college courses online in the Sciences, Humanities, English, Math and Business, with additional courses planned for the current school year.
For information, visit StraighterLine.com or call 202-507-7020 or 1-877-str8erline (1-877-787-8375).
###