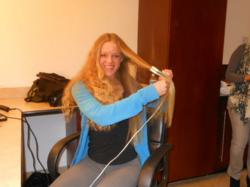 We hear from so many women with problem hair that are doing their happy dance at home after using Zelo®, we are excited about the confidence it gives them
Boca Raton, Florida (PRWEB) January 20, 2012
Zelo®, a professional Keratin straightening system for home use, has enjoyed a very successful run since its launch almost a year ago. Zelo's growth over the past year has been remarkable, and much of its success can be attributed to it's performance and the opportunity to reach consumers through HSN (the Home Shopping Network).
Boca Cosmetics Group's launch of Zelo® on HSN, in addition to a strong social media presence, has allowed Zelo® to connect with consumers at home. Boca Cosmetics Group is a pioneer in Professional Keratin treatment for home use and has made educating consumers on the benefits and easy application of Zelo its priority.
Zelo® started the year off with laughter and dancing on the set of HSN as the models' enthusiasm about their hair transformations from wavy, curly, frizzy and even African American women with stiff and brittle to luxuriously sleek, smooth and silky could not be contained. One model decided to show the audience just how Zelo® made her feel and did what she called the "happy dance."
"We hear from so many women with problem hair that are doing their happy dance at home after using Zelo®, we are excited about the confidence it gives them," Gisela Basilio, Executive Director says. "Being able to connect directly with thousands of women on the shopping channel has made the products accessible and allowed women to review the products which have resulted in "Customer Picks", a mark of distinction."
Zelo® will be introduced to the Canadian market on The Shopping Channel, January 23, 2012. Basilio further states, "We are honored and excited to have been invited by The Shopping Channel, a subsidiary of Rogers Media Inc., a corporation which owns Canada's largest publishing company. In addition, Rogers Media manages more than 70 consumer and business publications, 54 radio stations, and several television properties including terrestrial television stations and cable television channels."
Zelo's unparallel and superior formula is suitable for all hair types. There are no washing restrictions and results last up to 3 months, or 3 times longer than the closest competitive brand.
No doubt Zelo® has an amazing year in store, with planned retail growth and the introduction of creative and innovative concepts with major retail partners.
Boca Cosmetics Group is a cutting edge manufacturer and supplier of hair care products in addition to being highly specialized in the development, contract manufacturing, and private labeling of Keratin hair products to professionals and consumers.
Zelo will be airing in Canada on The Shopping Channel next Monday 1/23/2012 at 11:30am, 3pm, 6pm, and10pm.
###