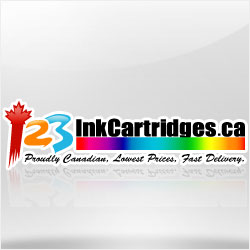 A white and blue interface that reduces clutter and makes navigation a lot easier
Montreal, Quebec (PRWEB) January 19, 2012
On January 19, 2012, 123inkcartridges.ca, a best Canadian source for discount printer supplies online store, officially launched the new version of its website. This updated design not only looks great on the screen but also improves the speed of shopping experience for customers. 123inkcartridges.ca believes this innovative design will be faster, more friendly, and more prominent of all the shopping pages for their clients.
Since the 123InkCartridge.ca launched its full French version website "123CartouchedEncre.ca" from August 17, 2011, the company has made some satisfactory gains. At that time, the company started to think a new version of its website which could make their customers' online experiences faster, easier and more enjoyable. The most noticeable was the new search capability, where you could restrict the search to product names, model number and even related product name.
In order to offer better users' experience, all the major sections of this new website including the home page, pages of products and checkout page, are now making way for a white and blue interface that reduces clutter and makes navigation a lot easier. In fact, the new site features a redesigned home page of the search bar, added the shopping by department, changed the image of product detail for every existing product. 123InkCartridges.ca stated that the customers' needs are always their priority to be considered with and the company would continue to seek their business opportunities and improve their service in the future.
About 123inkcartridges.ca
Since established in 2007, 123inkcartridges.ca has quickly become one of most popular online sources for printer ink & toner cartridges, HDMI cables, iPhone Accessories and iPad Accessories in Canada. The company's headquarters is located in Montreal, Quebec and has warehouses in both Montreal and Vancouver that ship all over Canada and the United States. More information about the company could be found at http://www.123inkcartridges.ca/
###