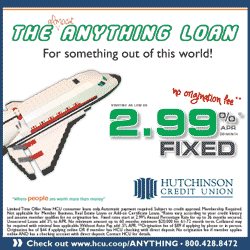 HCU's Gateway Checking Account is a great way to introduce young members to the world of finance.
Hutchinson, Newton, Haven and Wichita KS (PRWEB) January 19, 2012
Looking for a checking account without all the bank fees? Hutchinson Credit Union offers not only a truly free checking account, but also a great Premier Checking account that pays money market rates and offers easy options for waiving the monthly fee like keeping a balance of $1000 in their account or using their HCU Visa Card 5 or more times in a month.
**Compare all HCU Checking Accounts Here**
Some of the other great benefits that come along with the Premier Checking account are no check writing fees, unlimited free bill pay, 2 free foreign ATM uses, free checks for individuals age 50 and above, half off origination fees on consumer loans with direct deposit, a 1 tier "bump-up" on new certificates, and UNLIMITED free COOP Network & HCU ATM transactions. With this many features, and the easy options to waive fees, this account has really earned the name Premier.
For members ages 13-24, HCU offers a phenomenal account called Gateway Checking. This account is a great way to introduce young members into the world of finance. The Gateway Checking accounts have no monthly service charge, no minimum balance, no per check fees, rebates on foreign ATM fees and even an optional credit builder program. These features are just the tip of the iceberg of what Hutchinson Credit Union is able to offer young members looking to get their feet wet in the financial world.
**Compare all HCU Checking Accounts Here**
###