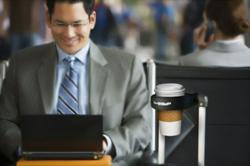 Whether it's a small or large coffee, a bottled water or a canned soft drink, I've got it covered with my LugCup drink cup holder
Tuscaloosa, AL (PRWEB) January 20, 2012
In today's busy lifestyle, most on-the-go travelers are always looking for the next cool product that can make life just a little bit easier – and the new LugCup technology, a drink cup holder that attaches to luggage trolley handles; baby strollers; bicycles and exercise equipment, delivers just that. The LugCup is an innovative new gadget that turns just about any traveling utility into an instant cup holder freeing your hands up while keeping that favorite beverage close by for easy access.
The manufactures of LugCup have come up with a strong, non-slip rubber & velcro beverage holder that anchors to any 4 inch long tubular or square surface. LugCup was initially created for airport beverage thirsty travelers as a place to safely put their drink while they waited to board their plane, but it was soon discovered that LugCup had many more uses. Some of those being bicycle handle bars; baby strollers; wheelchairs & walkers; trolley coolers for tailgating events; some exercise equipment; and other desired mobile travel devices.
"As an entrepreneur and product developer I'm constantly observing people and their behavior in public places for ways to create new products or improve existing products that can make life easier," explains LugCup creator and CEO John Sparks. "The LugCup allows me to expand where I'm able to place my beverage with one affordable simple-to-use accessory. Whether it's a small or large coffee, a bottled water or a canned soft drink, I've got it covered with my LugCup drink cup holder."
With an MSRP of $22.95, the LugCup is an inexpensive solution for the beverage thirsty traveler with an on-the-go lifestyle. The LugCup, which retails for $22.95, is available at http://www.lugcup.com and on Amazon.
About LugCup: Manufacturer of the first affordable, multi-use, mobile cup holder accessory that turns any traveling carry-on luggage into a useful drink cup holder. For more information, please call (877) 980-2929.
Contact:
John Sparks
WaterRock Products
(877) 980-2929
http://www.lugcup.com
# # #