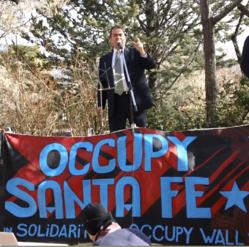 1,000 New Mexicans came out for opening day at the New Mexico Legislature to call for the end of Money in Politics
Sasnta Fe, New Mexico (PRWEB) January 23, 2012
On January 17th, the first day of the 2012 New Mexico Legislature, Occupy Santa Fe (OSF), local unions and other social justice organizations joined in an occupation of the State Legislature, actually surrounding the entire building, demanding that the representatives protect the rights of citizens not the interest of the paid lobbyists. To this end, the General Assembly of OSF approved the 99 Pledge Campaign to provide a tool to identify which politicians or candidates are beholden to the Corporations and which represent the people of this country. Participants in OSF realized that there are many organizations working to this end, but with no unifying focus and no tools to bring all of these movements together. Therefore, the 99 Pledge Campaign will also work to unify all "Money Out of Politics" movements with the shared goal of ending corporate control of American politics.
Over the last 4 months, the nationwide Occupy Movement which started on September 17 on Wall Street has called for legislation to prevent corporations using enormous campaign contributions to influence members of Congress for their own profit. A September Harris Poll found that 87% of Americans agree that corporations have too much influence over our government. Other Groups including Move On, Move to Amend, Money Out Of Politics, and Dylan Ratigan's Get Money Out campaigns have garnered increasing support as more Americans demand that the auction of our politicians with campaign donations, end. We estimate that there are over 1,000 Occupy movements around the country and the 99 Pledge campaign calls on each of them to download the Pledge Package and use the tools included to get their representatives to sign the "Pledge for a Democratic America" and commit to end the corruption of our democracy through unlimited political spending.
This grass roots movement, unlike any other, is creating change from the bottom up with cities like Los Angles, Albany and Cleveland passing legislation to get corporate money out of politics, increasing pressure on the Federal government to take action. At this time State Representative Mimi Stewart of Albuquerque and State Senator Steve Fischmann of Los Cruces are proposing a Memorial in the New Mexico Legislature calling for the reversal of the Citizens United ruling by the US Supreme Court. This regrettable decision by the Court, allows any wealthy person or company including foreign corporations to secretly contribute any amount of money to influence an election. A New Mexican youth produced this Rap Video "Free Speech for People Senate Memorial"(very cute) to explain this crisis to a younger audience.
OSF is also releasing The 99 Pledge video that explains the reason for, and the tools available in the 99 Pledge Package at The99Pledge.com. This 4-minute video features OSF participants illustrating the negative impacts of a government controlled by for-profit corporations. They also explain how to use the 99 Pledge to bring this issue to every Congressman and woman and Senators when they are at town hall meetings back home. On the first day of the 99 Pledge campaign, eight elected officials and candidates in New Mexico including Congressional candidate, Eric Griego of New Mexico District 1, signed the Pledge. Now it is time for the 99 Pledge Campaign to go national.
Signed Pledge
Eric Griego-- US Congress Candidate (Serving State Senator)
Brian F. Egolf-- State Representative
Ray Begaye-- State Representative
Gerald Ortiz y Pino-- State Senate
Cisco McSorley -- State Senator
Matt Dobson-- State Senate Candidate
Sean Closson -- State Senate Candidate
Patti J. Bushee-- Santa Fe City Council
# # #