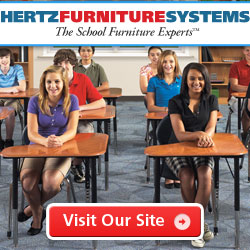 Our children spend eight hours each day in the classroom. If children are comfortable, they will learn better in that classroom.
Mahwah, NJ (PRWEB) January 20, 2012
Saul Wagner, president of Hertz Furniture, appeared on Lifetime Television's popular morning show, The Balancing Act on January 17th. The episode, "What Defines a Well-Designed Classroom," focused on the impact that classroom furniture has on the learning environment.
Mr. Wagner, an authority on educational ergonomics and classroom design, appeared on the Parent Teacher Corner segment of The Balancing Act, with John Musso, Executive Director of the Association of School Business Officials (ASBO). Mr. Wagner and Mr. Musso addressed the importance of choosing the right school furniture to enhance learning. Mr. Wagner said, "Our children spend eight hours each day in the classroom. If children are comfortable, they will learn better in that classroom."
The pair spoke with the program's host, Danielle Knox, about how good behavior and optimum learning depend to a great extent on the physical environment. They spoke of the importance of determining how a particular classroom will be used, as well as the style of teaching that will be used when deciding on the school furniture to purchase. Viewers had an opportunity to visit several schools to see how innovative school furniture can change the learning environment.
The discussion turned to the issue of budget constraints. Parents can help by making the school administration aware of what is important to them - for instance, ergonomic seating and green products. Finally, parents can show their support by voting to fund education with additional dollars.
Mr. Wagner will be appearing on The Balancing Act again on February 7. The show airs nationally on Lifetime Television Monday through Friday at 7 am ET/PT. The full episode can also be viewed on the Hertz Furniture website.
About Hertz Furniture:
For 45 years Hertz Furniture has supplied schools, religious institutions, businesses and government offices with top quality commercial furniture and superior customer service. Speedy Quotes, Quick Ship products, a wide selection of eco-friendly furniture, a free project planning and design service and the best warranties in the industry are just a few of the ways that Hertz Furniture provides added value to its customers. For additional information on Hertz Furniture and its extensive line of products, please visit http://www.HertzFurniture.com, speak to a furniture specialist at 866-298-9640, or send an email to ahoffmann(at)hertzfurniture(dot)com.
# # #