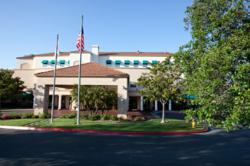 The extensive renovation at the Embassy Suites Temecula Valley Wine Country will enable the hotel to continue to provide guests with superior accommodations and a highly satisfying stay overall
Temecula, CA (PRWEB) January 20, 2012
The 176-suite Embassy Suites Hotel Temecula Valley Wine Country hotel will complete a 4 month renovation of its guest suites, public areas and restaurant. The renovation in this Temecula hotel will include guest suite upgrades such as new carpeting, bedding and high definition programming viewed on 37" flat panel TVs. The upgrades to the public areas will include new corridor carpet, enhanced lighting packages in the commercial space and a concept change in the food and beverage area. The spacious pool and patio area has also received a facelift and is a lovely place to watch evening sunsets over the hotel's sparkling fountain, pond and green space. The hotel is managed by Windsor Capital Group based in Santa Monica, CA.
"The extensive renovation at the Embassy Suites Temecula Valley Wine Country will enable the hotel to continue to provide guests with superior accommodations and a highly satisfying stay overall," said Kellie Hanselman, Director of Sales. "Our spacious two-room suites will continue to appeal to business travelers by affording more space to work and relax than the average one-room hotel accommodations in the local market. Families also will continue to enjoy spreading out within the two-room suites and utilizing the enhanced patio / pool area."
The Temecula hotel will also feature a concept change in food and beverage to embrace the trends of today's multi-tasking travelers - communal workspace, extensive bandwidth upgrades and regional televised sporting events with the option of food and drinks. The Sweet Spot Sports Bar and Grille ®, will be the perfect place for busy travelers, families, or local fans to come together to enjoy good food, good sports and good times. The Temecula location will be the third in a series of food and beverage concept changes within Windsor Capital Group's hotel portfolio. Guests can share their universal sports enthusiasm over drinks, lunch or dinner. A fun sports themed restaurant inside one of the best hotels in Temecula, The Sweet Spot Sports Bar and Grille ® will offer something for every sports fan of all ages: extensive appetizers, salads, sandwiches, chicken, steak and seafood entrées paired with a variety of wines, specialty cocktails, and beers. The Sweet Spot Sports Bar and Grille® will be open 7 days a week and offer daily drink and meal specials.
The hotel features 3,500 square feet of meeting space including 6 meeting rooms, as well as a state of the art business center, a gift shop filled with regional specialties and 24 hour fitness facility.
The Embassy Suites Hotel - Temecula Valley Wine Country hotel provides guests with a full complement of services and amenities, including complimentary wireless Internet access in the guest suites, complimentary on-site parking and an ideal location minutes from beautiful Southern California Wine Country. All Embassy Suites Hotels® offer spacious two-room suites that include a separate living area with a sofa bed, armchair, and well-lit dining/work table, private bedroom and bath, hair dryers, MP3 clock radio, two televisions, two dual-line phones, high-speed Internet access, a wet bar, mini-refrigerator, microwave oven, an iron and ironing board, a Precor® fitness center, a convenient complimentary cooked-to-order breakfast each morning and a complimentary two-hour Manager's Reception each evening.
To make reservations, travelers can visit the Embassy Suites Temecula Valley Wine Country Hotel's web site at http://www.temecula.embassysuites.com or call the hotel directly at 951-676-5656.
About Embassy Suites Hotels
Founded in 1984, Embassy Suites Hotels defines the upscale, all-suite segment and has nearly 200 hotels open, with an additional 50 in the pipeline. With spacious two-room suites, engaging team members and an inviting atrium environment, guests are allowed to put their feet up and feel right at home. To learn more, visit http://www.embassysuites.com.
Embassy Suites Hotels participates in Hilton HHonors®, the only hotel rewards program that offers Points & Miles® and No Blackout Dates. HHonors members can earn both hotel points and airline miles for the same stay at more than 3,000 Hilton Family hotels worldwide. And with No Blackout Dates, as long as a standard room is available, members can confirm that room using their HHonors points.
Hilton Hotels Corporation is the leading global hospitality company, with more than 3,000 hotels and 500,000 rooms in 76 countries and territories, including 100,000 team members worldwide. The company owns, manages or franchises a hotel portfolio of some of the best known and highly regarded brands, including Hilton, Conrad Hotels & Resorts, Doubletree, Embassy Suites Hotels, Hampton Inn, Hampton Inn & Suites, Hilton Garden Inn, Hilton Grand Vacations, Homewood Suites by Hilton and The Waldorf=Astoria Collection.
About Windsor Management Services
Windsor Management Services, a subsidiary of WCG Hotels, is an award winning, comprehensive hospitality management and development organization that manages full-service, upscale hotel properties throughout the United States. With more than 30 years of experience to call on, Windsor Management Services is known for unmatched results for its owners and unparalleled service for its guests delivered with a personal connection.
For more information visit windsormanagementservices.com or wcghotels.com. Additionally, please contact Bill Upshaw, President & Chief Operating Officer or Craig Stechman, Senior Vice President-Sales & Marketing at 310-566-1100.
HHonors®, Double Dip® and Double Dipping® are trademarks owned by Hilton HHonors Worldwide, L.L.C. Hilton HHonors membership, earning of Points & Miles®, and redemption of points are subject to HHonors Terms and Conditions.
Contact: Kellie Hanselman-Director of Sales; 951-676-5656; kellie.hanselman(at)hilton(dot)com
###