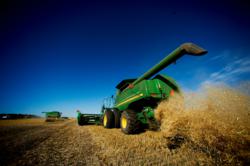 This historically stable agricultural asset class continues to increase in value for the buying public at a time when worldwide food consumption habits are shifting
Glenwood Springs, Colo. (PRWEB) January 20, 2012
With surging demand for quality farmland, one of the largest farms ever to be offered in eastern Colorado and western Kansas has been placed on the market for sale. The high-quality farm consisting of nearly 18,000 acres of some of the best farmland in this Colorado and Kansas area was placed on the market by Mason Morse Ranch & Farm Company, affiliate of United Country Real Estate, headquartered in Glenwood Springs, Colo. With farmland values on the upswing, rising commodity prices, low interest rates, inflation pressures and other world economic factors investors continue to seek out long-term investments with desirable returns in the agricultural land market. As these investors seek land investments and cash-rich farmers desire to expand their operations, farmland available for sale is in very limited supply. The record setting prices of the past two years have not swayed buyer interest as they continue to buy up the limited available properties for sale at a record pace.
Ben Hudye, 2010 Top Producer finalist and owner of Hudye Farms, US, Inc. explained his family has spent many years building this farm land holding up to its current size. "It took us close to ten years to establish the right model and to accumulate this land. The right buyer will have it all before this year's crop is planted. The farm is fully leased to young, aggressive growers; we will just slip out from behind the wheel and an investor can slip right in. This property is a wonderful opportunity for the right buyer to either establish themselves in the farmland market, or to complement their existing holdings, all in one simple transaction," said Hudye.
"We continue to see strong buyer demand and full-price offers for high-quality farmland across the plains. This historically stable agricultural asset class continues to increase in value for the buying public at a time when worldwide food consumption habits are shifting, demand worldwide for grain is high and rental values along with commodity prices remain strong. This is an exceptional opportunity to acquire a very large and productive farm," said Bart Miller, Managing Broker of Mason & Morse Ranch Company.
The 17,741 acres of farmland is generally located around Burlington, Colorado in Kit Carson and Cheyenne Counties, Colorado with a few tracts just across the Colorado-Kansas state line in Sherman and Wallace Counties near Goodland, Kansas with an additional 1,760 acres in Logan County, Kansas near Winona. Primarily the majority of the farmland topography is nearly level and undulating in large parcel groups. The largest of which is 12,000 acres within a 12-mile radius. The second largest grouping is 3,000 acres within a 5-mile radius. Web Link: http://www.ranchland.com/coloradokansasfarmland
About Hudye Farms U.S., Inc.
The Hudye family owns more than 35,000 acres in the U.S. and Canada. While they do not farm the U.S. land themselves, over many years they sought out young and aggressive American growers who needed additional cropland and developed cash/crop share partnerships with them. The Hudye family maintain a close relationship and friendship with their partners despite a geographical distance. While they are miles apart, the Hudye team makes on-farm visits to their partners and invite them to their Canadian location for educational field trips. More information about Hudye Farms U.S., Inc can be found on their website. http://hudyesoils.com/the-hudye-group/hudye-farms-usinc.html
About Mason Morse Ranch Company
"Ranches Farms Land Sales" – http://www.ranchland.com, affiliate of United Country Real Estate, is a leading provider of ranch and farm marketing services across the western United States. Founded in 1998, in the Roaring Fork Valley of Colorado, the company specializes in the sale of premier ranches, farms and recreational land across the western United States. Combined, Mason & Morse Ranch & Farm Company agents offer their clients more than 133 years of experience in western ranch, farmland and recreational real estate sales. Their professionalism, experience, innovative marketing strategies and commitment to their client base has developed Mason & Morse Ranch & Farm Company into one of Americas' leading premier land brokerage firms in the country. Recently recognized by The Land Report as one of America's Top Brokerages. "Winter Edition - 2010 Year End Review Featuring America's Top Brokerages."
About United Country
United Country Real Estate is the largest fully integrated network of conventional and auction real estate professionals in the United States. The company has been an innovator in real estate marketing since 1925. United Country supports nearly 600 offices across the U.S., Costa Rica, Panama and resort areas of Mexico, with a unique, comprehensive marketing program that includes one of the largest portfolios of property marketing websites (more than 3,000 separate sites and traffic of approximately 3 million visitors per month), multiple United Country real estate catalogs with national distribution , an extensive buyer database and national advertising of local properties that reaches more than 90 million homes per week. United Country has recently been recognized by AllBusiness.com, The Land Report, Entrepreneur and The Wall Street Journal as one of the top U.S. real estate companies.
# # #