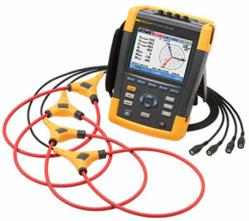 Vernon Hills, IL (PRWEB) January 19, 2012
Start saving more dollars this year by quickly analyzing energy inefficiencies and reducing waste. Introducing the Fluke® 430 Series II Three-Phase Power Quality and Energy Analyzers from Davis Instruments—technologies to help users better manage power. The analyzers help locate, predict, prevent, and troubleshoot issues in three-phase and single-power distribution systems.
On each analyzer, an energy loss calculator displays losses in dollars while automatic trending ensures that every measurement is automatically recorded. The system monitors up to ten power quality parameters on one screen. The units feature an energy loss algorithm, Unified Power Measurement, which quantifies energy losses due to harmonics and imbalances. A power inverter simultaneously measures AC output power and DC input power using an optional DC clamp. Cursors and zoom tools enable users to troubleshoot issues in real time, while the background recording of data continues.
The Fluke® 430 Series II Three-Phase Power Quality and Energy Analyzers carry the highest safety rating in the industry: CAT IV-600 V / CAT III-1000 V rated for use at the service entrance. The analyzers are fully Class-A compliant according to the stringent international IEC 61000-4-30 Class-A standard. The IEC standards for flicker, harmonics, and power quality are built-in, eliminating guesswork. Units include volt, amp, hertz, dips and swells, harmonics, power and energy, energy loss calculator, unbalance, monitor, power inverter efficiency, and inrush capabilities.
For more information, go to http://www.davis.com/18987 or call 800-358-5525.
Davis Instruments has been one of the world's leading sources of test, measurement, control, and calibration instruments since 1912. With expanding capabilities in industrial spheres such as power and utilities, petrochemicals, aerospace and electronics production, field services, and construction, the organization continues to respond to technological demands. Based in Vernon Hills, Illinois, Davis Instruments is dedicated to providing customers with excellent service and product applications expertise. For more information, contact Davis Instruments, 625 East Bunker Court, Vernon Hills, IL 60061. In the U.S.A. or Canada, call 800-358-5525. International customers, call 847-327-2000. Visit us at http://www.davis.com.
###