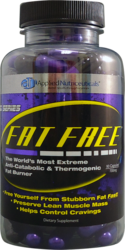 ...there's already more buzz on this product than Tim Tebow!
Charlotte, NC (PRWEB) January 24, 2012
Applied Nutriceuticals officially launched its new fat burning supplement, Fat Free™, on January 16, 2012. Fat Free stimulates a powerful muscle-sparing effect that is specifically designed to stop the yo-yo effect while significantly increasing the body's metabolism and provide clean, jitter-free energy. Don Orrell, President of Applied Nutriceuticals says, "One of the biggest problems with most common fat burners is they rely on heavy stimulants and not much else. Fat Free also provides incredible energy, but the real science is about how well it helps maintain lean muscle. This is the secret to long-term success, and it's going to revolutionize the industry…there's already more buzz on this product than Tim Tebow!"
Applied Nutriceuticals' Fat Free supplement contains ursolic acid, which has been shown to help maintain lean muscle mass and burn fat faster. According to a recent clinical study conducted by The University of Iowa's Medical School, skeletal muscle tissue weight was 14 percent higher in the ursolic group vs. the control group. Furthermore, the ursolic group saw a fat cell diameter 30 percent lower and a belly fat weight 25 percent lower than the control group.
Fat Free provides all of these key elements to obtaining a fit, trim, hard body:

Decreases building blocks of "bad" fats in the blood system
Maintains lean muscle that helps burn calories
Suppresses cravings that derail even the most diligent dieters
Delivers a powerful energy boost without use of harsh stimulants
Continues to work effectively for longer than other fat burners
Applied Nutriceuticals uses the most advanced technology and research techniques possible to produce effective sports nutrition supplements for males between ages 16-35. All Applied Nutriceuticals supplements are produced in house in Charlotte, NC - as opposed to many companies who use overseas contract manufacturers. "The company is completely vertically integrated from its sourcing of raw materials to the final finished product," says Dirk Tanis, COO, chief formulator & co-founder of Applied Nutriceuticals. "Plus, we perform rigorous quality control testing on every lot to ensure the safety and efficacy of every single bottle that comes out of our facility. Not many other companies can say that."
For more information on Fat Free, visit http://www.fatfreepill.com and for more information on Applied Nutriceuticals, visit http://www.appnut.com.
About Applied Nutriceuticals
Founded in 2006, Applied Nutriceuticals continuously pioneers the most effective products in the supplement industry. Their mission is to develop, manufacture and market high-performance nutritional supplements that deliver safe, consistent and measureable results while never forgetting their primary purpose for existing: to serve their customers. Every product is made in their state-of-the-art cGMP facility located in Charlotte, NC.
###